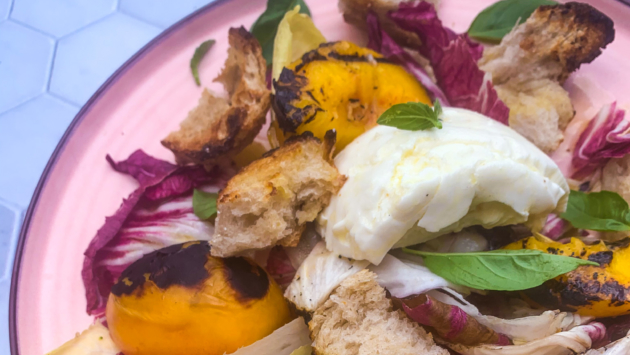 Ingredients:
for salad components
2-3 ripe, but firm peaches
4 oz fresh burrata, or mozzarella
bunch fresh basil
bunch fresh mint
olive oil, for brushing
small head raddichio
small head endive
leftover bread, a few slices worth
summer herb vinaigrette
1 large clove garlic, finely chopped
1 tablespoon grainy mustard
1 tablespoon fresh lemon juice
1 tablespoon apple cider vinegar (or experiment with seasonal local vinegars!)
1/2 teaspoon finely chopped fresh basil
1/2 teaspoon finely chopped fresh mint
coarse salt and freshly ground pepper
1/4 cup plus 2 tablespoons extra-virgin olive oil

Directions:
Halve and pit the peaches, brush with olive oil and place pit-side down onto grill or grill pan with tongs. Remove after a minute or so, or until nice grill marks have formed.
Meanwhile, place all dressing ingredients into jar and shake vigorously to emulsify. Feel free to incorporate other herbs as available!
Separate leaves of raddichio, and grill quickly until charred. Leftover, slightly stale bread is perfect for this dish. Toast and rip bite-sized hunks. Begin to build salad, layering leaves of endive, charred raddichio, grilled peaches, fresh basil and mint, torn toasted bread and quartered grilled peach slices. Drizzle generously with dressing, add a healthy dose of freshly cracked pepper and enjoy!