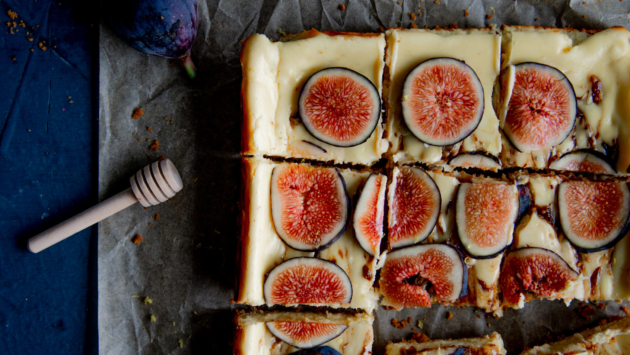 Ingredients:
Crust
1 1/2 cups graham cracker crumbs
1/2 tsp kosher salt
1/4 tsp ground cinnamon
1/4 cup (1/2 stick) unsalted butter, melted
Filling
12 oz cream cheese, at room temperature
4 oz goat cheese, at room temperature
1/2 cup granulated sugar
2 large eggs, at room temperature
1 1/2 tsp pure vanilla extract
zest of one lemon (optional)
Topping
2 – 3 Tbsp fig jam
4 – 6 medium fresh figs, thinly sliced
1 Tbsp pure honey, or to taste
Directions:
Preheat the oven to 350 degrees F. Line a 9×9-inch baking pan with parchment paper, leaving enough room on each side to create a flap over the edge of the pan. Set aside.
Make the crust
Use a food processor to pulse together the graham cracker crumbs, salt, and cinnamon. Drizzle in the melted butter and pulse a few times until combined. Spoon crumbs into prepared pan, pressing down gently into an even layer. Bake for 5 minutes, then remove from the oven and set aside.
Make the filling
Meanwhile, make the cheesecake. Combine softened cream cheese, goat cheese, and sugar in the mixing bowl of a stand mixer fitted with the paddle attachment. Beat together on medium speed, until light and creamy, and no lumps remain. Beat in the eggs, followed by the vanilla and lemon zest, if using.
Pour mixture over the crust, and use an offset spatula to smooth the top into a smooth, even layer. Gently tap the bottom of the pan on the counter a couple of times to release any air bubbles. Place even dollops of fig jam, either store-bought or homemade, along surface of cheesecake, to taste. Using a toothpick or thin knife blade, create swirls of fig jam along top of the cheesecake filling for a dose of fig flavor!
Bake until the sides of the cheesecake are gently puffed and just beginning to color, 30 – 35 minutes. The center should still have just a tiny bit of jiggle to it, and the cheesecake will continue to cook as it cools. Remove from the oven and let cool to room temperature, then transfer to the refrigerator and let set and chill thoroughly for 2 – 3 hours.
Serving
When ready to serve, slice the figs and layer in a pattern on top of the cheesecake. Drizzle or brush on honey, to taste. Once topped with the figs, the cheesecake bars are best served immediately, but should stay good refrigerated for several days!