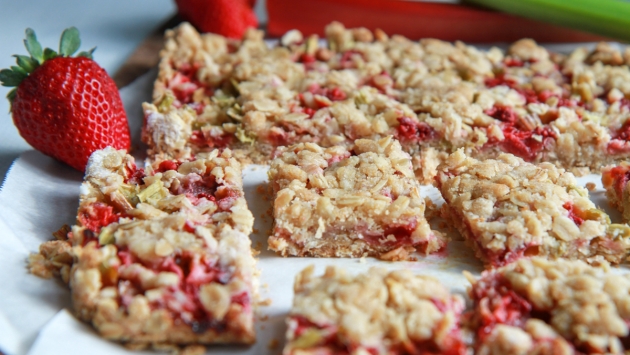 Ingredients:
1 cup rhubarb, stems trimmed and diced (about 2-3 medium stalks)*
1 cup strawberries, hulled and diced*
1 tsp. lemon zest
1 tbsp. lemon juice
1 tsp. cornstarch, tapioca flour OR arrowroot flour
1 tbsp. granulated sugar
1 cup rolled oats
¾ cup flour
½ cup light brown sugar
Heaping ¼ tsp. salt
6 tbsp. unsalted butter, melted OR olive oil OR coconut oil
Equipment:
Oven
8 x 8 inch baking pan, 9-inch pie plate OR 9-inch cake pan
Parchment paper (optional)
Cutting board
Kitchen knife
2 Large bowls
Small bowl
Microplane
Juicer OR fork
Rubber spatula
Measuring cups and spoons
Pot holders
Directions:
Preheat the oven to 375°F and grease or line the baking pan with parchment paper.
Wash all the produce and then trim, hull, dice, zest and juice them as noted in the ingredients list.
In a large bowl, combine the rhubarb, strawberries, lemon zest and lemon juice.
In a small bowl, stir together the cornstarch and granulated sugar, then sprinkle it over the fruit mixture and toss well to evenly coat the fruit.
In a separate large bowl, combine oats, flour, brown sugar and salt. Mix well.
Add the melted butter to the dry mixture and stir until coarse crumbs form.
Set aside ½ cup of the crumb mixture. Press the rest of the crumb mixture evenly in the bottom of the pan to form a crust.
Spread the fruit mixture evenly over the crust.
Scatter reserved crumbs over the fruit. Ask for an adult's help to place the pan in the preheated oven.
Bake bars for 30 to 40 minutes (firmer fruits will take longer), until the fruits are bubbly and the crumb topping is golden brown. Carefully remove the bars from the oven and allow to cool before serving.
*Note: This recipe also works well with other seasonal fruits like plums, apricots, raspberries, cherries, blackberries, blueberries, peaches or pears.