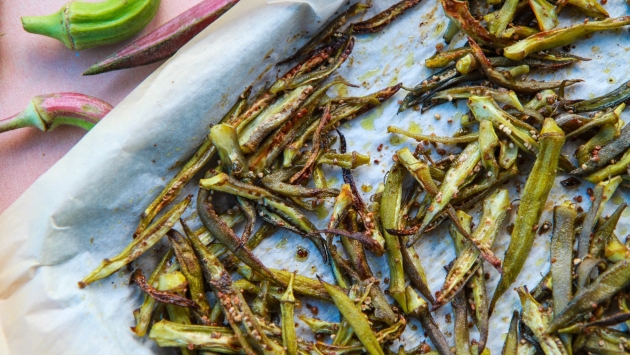 Ingredients:
1 lb okra, preferably small and slender
1 diced jalapeño (optional)
Extra virgin olive oil
1 teaspoon garlic salt
1/2 teaspoon cumin
freshly grated black pepper, to taste
Directions:
Preheat the oven to 425 F° and place an oven rack in the top third of the oven.
Line a rimmed cookie sheet (half-sheet pan) with parchment paper. Trim woody ends off of okra and then slice lengthwise into quarters and place on the cookie sheet.
Add the optional diced jalapeño, garlic salt, cumin, and freshly grated black pepper. Top the okra with a few generous glugs of olive oil (at least 1/4 cup) and mix everything so that the okra is evenly coated with oil and with seasonings.
Spread okra into an even layer and roast for 20 minutes. Remove okra from the oven and stir the contents. At this point, the okra should reduce in size and begin to shrivel and you should be able to spread it out into a single layer before returning it to the oven. Roasting another 15 minutes or until the okra starts to brown and crisp up.
Enjoy!