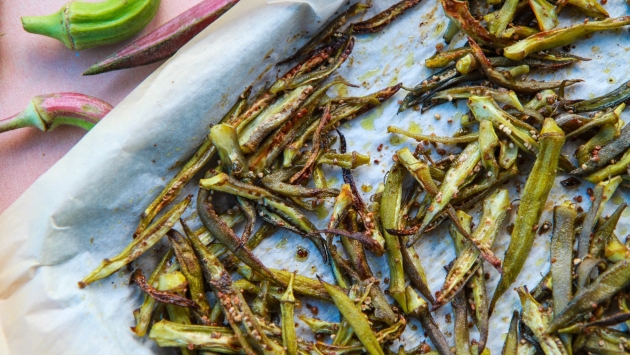 Ingredients:
1 lb. fresh okra pods, the size of an adult's thumb, trimmed and sliced lengthwise into quarters
*1 jalapeño, trimmed and diced (optional)
¼ cup extra virgin olive oil
½ tsp. garlic powder
½ tsp. salt
½ tsp. ground cumin
⅛ – ¼ tsp. ground black pepper
Equipment:
Oven
Baking sheet
Parchment paper (optional)
Cutting board
Kitchen knife
Gloves
Measuring cups and spoons
Pot holders
Directions:
Preheat the oven to 425 F° and place an oven rack in the top third of the oven. Line a baking sheet with parchment paper.
Wash the okra and jalapeño.
Trim the woody ends off of the okra and then slice lengthwise into quarters.
Trim and dice the jalapeño. For milder spice, just use the spicy pepper flesh and for an extra kick add the seeds to the mixture.
Add the okra and jalapeño to a large bowl, along with the olive oil and toss to coat.
Add the garlic powder, salt, cumin, and black pepper and toss again so that the okra is evenly coated with the seasonings.
Spread the okra into an even layer on the baking sheet, and ask for an adult's help to place the sheet in the preheated oven.
Roast for 20 minutes then carefully remove the sheet from the oven. At this point, the okra should have reduced in size and begun to shrivel. Toss and spread the okra out into a single layer before carefully returning the tray to the oven.
Roast for another 15 minutes, or until the okra starts to brown and crisp up.
*Note: Use extreme caution while handling spicy peppers. Use gloves and be sure not to touch your eyes. Wash hands and equipment immediately after handling spicy peppers.