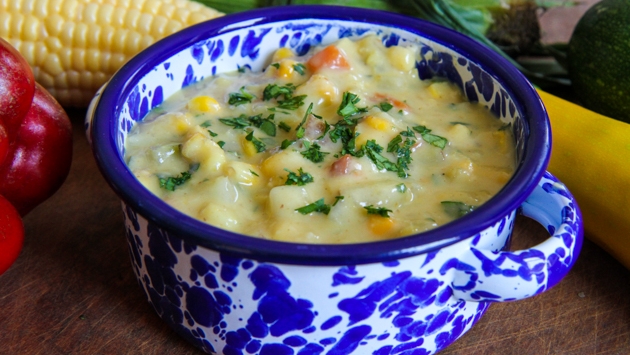 Directions:
In a large heavy-duty bottom stockpot or dutch oven, melt butter over medium heat. Add bacon and cook until bacon renders its fat and begins to brown, about 3-4 minutes.
Add onion, celery, carrots, and garlic, and cook until vegetables begin to soften, stirring a few times, about five minutes.
Add potatoes, water, and bay leaf. Raise the heat to medium-high and bring to a simmer, then lower the heat back to medium and simmer for 8-10 minutes or until the potatoes are halfway cooked.
Add zucchini, pepper, and corn; season with salt and pepper, to taste, and simmer for additional 8-12 minutes or until the vegetables are completely tender.
Discard the bay leaf and then transfer 2 cups of chowder to a food processor or blender; puree until smooth. Stir the mixture back into the pot. Add heavy cream and cook just until heated through. Add more salt and pepper if necessary.
Serve garnished with fresh chopped parsley.
Enjoy!