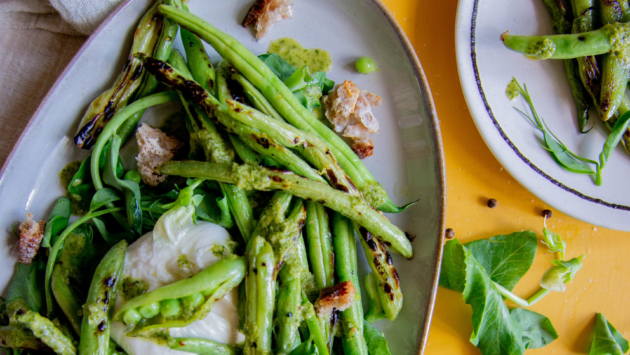 Directions:
Char Beans and Assemble Salad
Rinse and trim green beans and snap peas (removing string). Meanwhile, heat your grill, or grill pan on medium high. Toss beans/peas in olive oil, salt and pepper to coat. Working in batches, char beans and set aside.
If you have slightly stale bread, or leftover bread heels, put them to use by toasting, crumbling and adding to salad. Otherwise, a sprinkle of breadcrumbs you have on hand works great too!
Meanwhile, layer the bottom of your dish with pea tendrils, breadcrumbs, burrata, and beans once ready.
Prepare the Dressing
Measure a 1/2 cup of preserved lemons,* discarding extra salt and add to blender, along with fresh lemon juice, smashed garlic, mint and oil. Blend until emulsified, adding salt and pepper to taste. Drizzle dressing on salad and serve!
*A note on preserved lemons: Preserving lemons is a delicious, albeit long process, taking 3 – 4 weeks. However, you can either substitute good old fashioned fresh lemons in this recipe, or quick preserve your lemons for similarly delicious results!