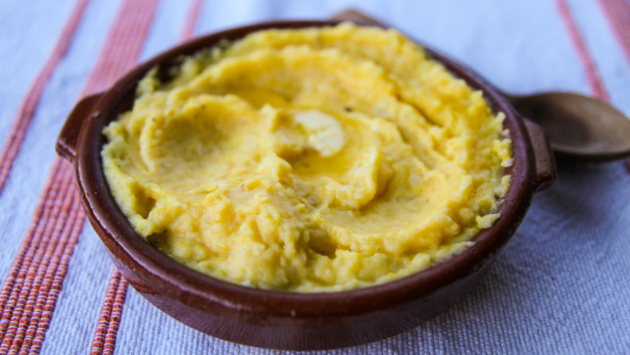 Ingredients:
4 pounds Yukon gold potatoes, peeled and halved (or quartered, if large)
1 small butternut squash (2 pounds), peeled, seeded, and cut into 2-inch chunks (about 6 cups)
sea salt and ground pepper
6 tablespoons butter
2 garlic cloves, minced
1 cup heavy cream (optional)
Directions:
In a large pot, combine potatoes and squash; cover with salted water by 1 inch. Bring to a boil; reduce heat, and simmer until potatoes and squash are easily pierced with the tip of a paring knife, about 20 minutes.
Drain in a large colander; return potatoes and squash to the pot. Stir over medium heat until dry, 2 to 3 minutes. Remove from heat.
In a small saucepan, melt butter over medium heat; add garlic, and cook until fragrant, about 2 minutes. Add cream, if you are using it, and bring to a simmer.
Pour the butter/garlic/cream mixture over potatoes and squash. Season generously with salt and pepper. Mash with a potato masher until smooth and creamy and serve immediately.