Pop Up Food Hub
It's a Wrap! FRESHFARM Market Share winds down another successful season
There are a ton of veggie subscriptions out there — from traditional CSAs to for-profit aggregators. But what sets the FRESHFARM Market Share apart from the rest is how it balances being an incredible value for consumers while supporting FRESHFARM's core mission of helping local farmers, improving food access, and building a more resilient food future. With the Market Share winding down for the season over the next few weeks, the numbers speak for themselves: end-of-season data illustrate how this is more than just a veggie subscription. As the growers throughout the region have charted an uncertain recovery from the pandemic, so far this year the Market Share has provided nearly $71,000 in additional income to participating farmers. These impressive sales translated into 2,407 bags of produce for Market Share members—26% of which were subsidized shares for shoppers using SNAP/ EBT/ P-EBT and WIC benefits.
How It Works
The Market Share is the retail arm of the Pop Up Food Hub, our innovative food distribution model that leverages the power of farmers markets to maximize revenue for farmers and increase food access in the community. Here's how it works: FRESHFARM places wholesale orders with farmers before they head to market. Our Pop Up Food Hub team collects the food at market and packs it into shares on site to be either picked up by members or delivered to consumers and partners.
The Market Share is open to everyone and offers subsidies to those who shop with nutrition benefits like SNAP/ EBT/ P-EBT and WIC, or who are facing food insecurity. Market Share customers can go beyond simply buying fresh veggies for their own families; members can add "Social Impact" to their subscription to help their broader community access this same high-quality, local food. Social Impact contributions directly support FRESHFARM's ability to offer a 75% discount to Market Share customers paying with nutrition benefits and help us operate programs that directly serve price-sensitive DMV residents. Finally, our Market Share is super flexible and convenient: members can sign up anytime during the season, skip a week (or multiple weeks), and cancel at any time.
What Stakeholders Say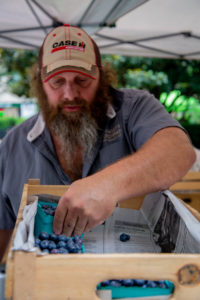 "It pays my bills," declares farmer Astrid Pleitez when asked why her farm, Pleitez Produce in Montross, Virginia works with FRESHFARM and the Market Share. "I've loved FRESHFARM's Pop Up Food Hub since I got into it," notes Bill Mickley of Mickley's Orchard, a fifth-generation fruit and vegetable farm located in Biglerville, Pennsylvania. Mickley has been selling produce to the Ballston and The Parks at Walter Reed Market Share for the past two seasons. According to Mickely, the Market Share creates a special relationship with customers: "What I like about it is that when people come to get their bag, they can see me in person and make the connection–hey, this is the guy I'm getting my fruit from!"
In addition to appreciating the increased awareness of his business, Mickley explains that the additional sales have really helped his bottom line: "When we're getting ready at the farm for a market day, we know that we've already made a certain amount from the Market Share before we even set up at the market. So if we have a slow market or it rained all day, it doesn't change what I've made already from working with the Pop Up Food Hub." He estimates that Market Share sales account for 30% of his gross revenue on market days.
When we asked Mickley what surprises him most about working with the Pop Up Food Hub, he gushes about the team. "The crew has been wonderful to work with," says Mickley. "Once I back my truck up at the market, the crew gets the food and is so efficient at putting the bags together. I can just focus on getting my stand set up."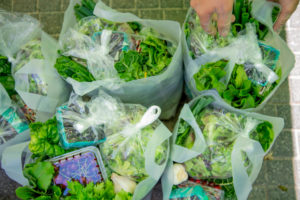 At the other end of the supply chain, the Market Share is also an incredible deal for consumers. FRESHFARM sources produce from various farms, large and small, in the FRESHFARM network, giving members a huge variety of the ripest produce from Maryland, Virginia, and Pennsylvania. By keeping our overhead low, we are able to provide abundant quantities of peak season produce at a great price. A member sums it up this way: "The bags are so packed this year…I haven't been able to keep up! I love the produce, love what y'all do."
How To Join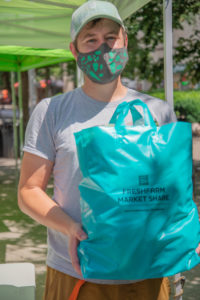 The 2021 Market Share is wrapping up at our Columbia Heights and The Parks at Walter Reed pick-up sites this month, and is available at the Ballston market through November 18. It may seem a little early to start planning your 2022 eating, but if an abundant and flexible veggie subscription that helps farmers and your food-insecure neighbors sounds good to you, consider the Market Share. This program does so much more than bring delicious produce to your table every week. It also supports a resilient food system by enhancing profitability for farms like Mickley's Orchard and Pleitez Produce, improves food access with subsidized shares for those who need them, and strengthens communities. Send us an email today and we will let you know when the 2022 Market Share opens to new members!