Pop Up Food Hub
Delivering Fresh Produce to Those Who Need It Most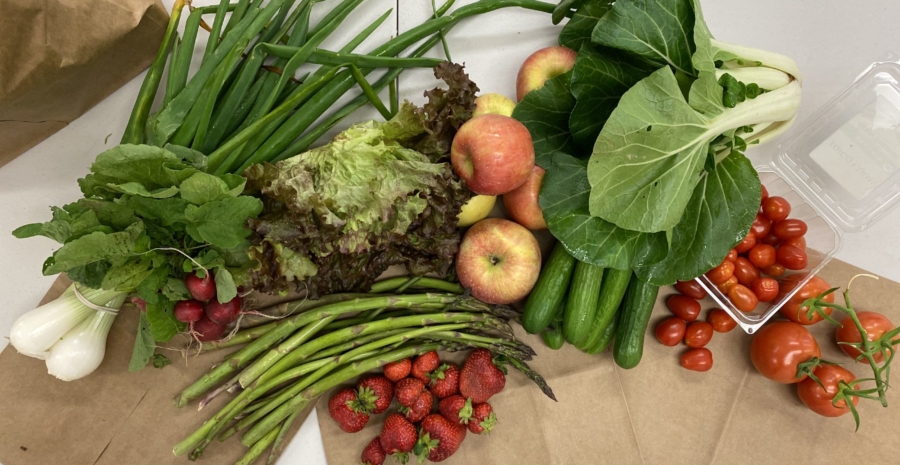 While many of us are still able to shop at the farmers market on a regular basis, for plenty of families in our region, accessing fresh food has become more difficult than ever. Transportation options are limited, and some cannot leave their house due to their vulnerability to the coronavirus. In response, our Pop-Up Food Hub is delivering free produce directly to 650 families a week, and thanks to our wonderful partnership with senior care organization We Are Family, distributing produce to 900 seniors bi-weekly. This represents significant revenue for our local farmers, and an invaluable source of nutritious food for families in need.
Each weekend since the end of March, the Pop-Up Food Hub team has been picking up wholesale orders from farmers attending the farmers markets and packing hundreds of bags for seniors and families with young children. We connect with these families through our institutional partners: childcare facilities, senior care organizations, and rec centers who we work with throughout the year to distribute fresh food to their clients. Now, with community spaces closed and families staying at home, we are bringing the food directly to the people who need it. We're currently moving approximately 15,000 pounds of produce per week!
As more product becomes available and we bring on new partners, the Pop-Up Food Hub team will add weekday delivery days in addition to weekends. We also made the first delivery to a FoodPrints school: Kimball Elementary! Thanks to a generous private donation, Kimball, which is also a DCPS emergency meal and grocery distribution site, now also offers free fresh produce.
While the Pop-Up Food Hub is working hard on emergency food programs for vulnerable communities in response to COVID-19, we are also planning when and how the Market Share (our version of a CSA) can fit into these operations. Right now, we are hoping to start the Market Share produce subscription program by late June, with open public sign-ups starting in late May. All past participants will get an email once sign-ups open up and info will be posted on the website. If you are interested in getting updates about the Market Share, sign up here.