Markets
The 21st Annual Future Harvest CASA Conference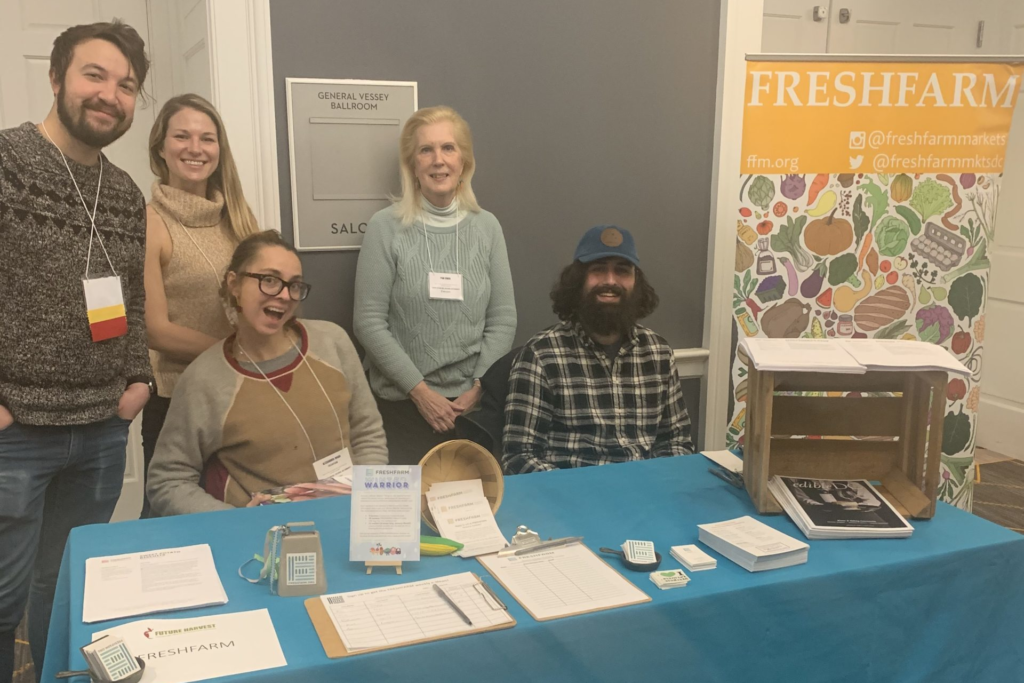 Last month, members of the FRESHFARM team attended the Future Harvest CASA Conference to learn how our community can help direct our food system to a more sustainable future. This year was the 21st annual conference, and it is just one way Future Harvest CASA (standing for Chesapeake Alliance for Sustainable Agriculture) facilitates networking and the exchange of research and other learning, "to advance agriculture that sustains farmers, communities and the environment." FRESHFARM was glad to provide support as a Gold Level sponsor.
As excited as our staff was to talk about FRESHFARM and its programs with conference attendees, everyone was eager to learn more from our peers, researchers, and the farmers doing the work that's at the heart of why our organization exists in the first place. The two-day schedule was jam-packed, and we showed up bright and early at the College Park Marriott in East Hyattsville, MD each day for informative workshops and panels, keynote addresses, networking, and meals featuring locally sourced ingredients. Shout-out to Future Harvest CASA for practicing what they preach!
Highlights of the conference included Leah Penniman's keynote on Friday, which addressed the United States' history of racial injustice that continues to impact modern farming. On her own farm in New York state, Soul Fire Farm, Penniman relies on organic and traditional ancestral African farming methods (methods that are frequently one in the same) to feed a diverse community. Soul Fire offers farm and carpentry training programs for Black and Latinx people, a collaborative CSA program that won't turn anyone away for lack of income, youth programs that teach children about food and where it comes from, and an Uprooting Racism immersion program that brings groups to the farm to learn about food injustice. Penniman put all of these ideas to print with her book, Farming While Black, to help anyone looking to make our food system more equitable take action.
In Saturday's keynote, Dr. Elaine Ingham of the Soil Foodweb shared her work to help farmers restore soil biology. She explained that soil is comprised of living bacteria and fungi that help maintain an appropriate balance of nutrients for growing healthy food with strong yields, as well as take carbon dioxide out of the atmosphere. Dr. Ingham advocates no-till farming practices, which help maintain the delicate balance of living organisms in the soil. According to her research, if the entire world committed to no-till farming practices, we could reduce the amount of carbon dioxide in the atmosphere to pre-Industrial Revolution levels in 5 to 15 years!
By the end of the weekend, the FRESHFARM attendees were energized by the immense community spirit and optimism we felt from everyone we talked to or heard from. While none of us can solve any of the problems facing agriculture, farmers, and our food system overnight, we're excited to play our part. Attending the 2020 Future Harvest CASA conference reaffirmed to us that the future of sustainable agriculture in our region looks bright.