Markets
How Farmers Markets Stay Open, Safely, During COVID-19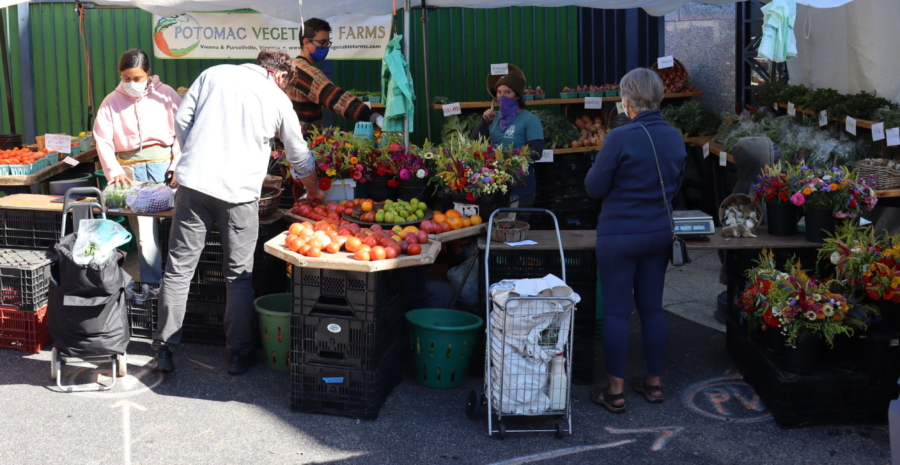 For farmers markets across the country, the 2020 market season has been one of endless changes, challenges, and uncertainty. FRESHFARM has been committed to operating markets safely throughout the pandemic and has worked tirelessly over the past six months to keep markets open. We believe that farmers markets have been–and continue to be–an essential service throughout the pandemic, providing fresh, nutritious food in relatively lower-risk outdoor settings, in a time when many shoppers have been wary of going to the supermarket. Despite the drastic changes we have had to make this season, the farmers markets continue to provide a sense of normalcy and even joy for shoppers across the region. 
When the pandemic hit in March, the FRESHFARM farmers market team leapt into action, working around the clock to establish policies that would ensure markets could stay open safely. In those first few weekends, we installed handwashing stations at market, implemented extra spacing between our vendor stalls, and operated at a reduced customer capacity. The market team worked closely with local and state officials in DC, Maryland, and Virginia to understand and enact constantly changing regulations. We instituted mandatory mask wearing, limited the number of vendors we could host, and restricted prepared foods cooked to order at market.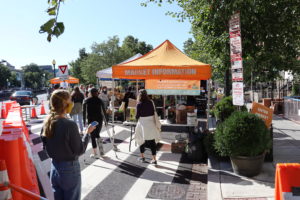 These changes came with a significant investment in staff and new equipment and infrastructure. For example, our Dupont market, which typically has three market managers, has been staffed by a team of 11 every weekend. At the Dupont, Arlington, and Mount Vernon Triangle markets, we introduced an online reservation system through OpenTable to allow customers to book designated shopping time slots. At all of our markets, shoppers have quickly and graciously adapted to the new order, braving lines, minimizing contact with products, and keeping visits shorter by pre-ordering their groceries on our website and through our online ordering system Local Line for the Dupont and Arlington markets. 
Just as farmers markets have had to transform their operations this year, farmers in our region have also had to quickly pivot to respond to this COVID-19 world. Many have implemented pre-order systems for pickup at market, with some foregoing markets entirely and focusing exclusively on delivery or CSA options. Farmer Dru Peters of Sunnyside Farm, located in York, Pennsylvania, has been able to stay resilient by focusing on her farming. "I have really worked hard to do my best to ignore what's going on in the world. It's impossible to do, but I really make an effort to stay focused on what I need to do to get done every day on the farm," she says. "I have to think about what I need to do. [Farming] requires a lot of physical labor and I gotta say, I'm so happy to have it."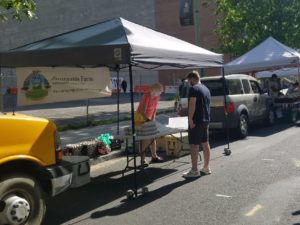 Market customers have proven their dedication to supporting local farmers and producers in this difficult time, with many customers spending more than average on each trip to the market. Dru, who sells chicken, beef, eggs, and flowers at the Mount Vernon Triangle market, has not only weathered the storm but has had a pretty good season so far. "When this started in March, the markets changed very dramatically," she says. "It had a big impact, and now it feels like everybody has figured out how to adjust to it, including me as a grower. I feel confident that everything I grow I'll be able to sell." She's been selling out of eggs every week with over twice the amount she brought last year, when she was leaving the market each week with several dozen eggs. Because of the increased revenue, Dru has been able to hire more help and spend time figuring out what works best for the farm, and how to best plan for the future, like planting kale, collards, and lettuce and taking advantage of her two hoop houses in the coming winter and spring months.
So much of what we all enjoy about markets has been dramatically impacted this season, and it's been difficult to not see everyone's smiling faces, and to not spend quite as much time catching up with our farmer friends as we once did. Despite this, we are committed to keeping our markets open, and our shoppers, vendors, and staff as safe as possible. We remain so grateful for everyone who supports our region's growers and producers during these difficult times. We're confident that with your support, masks, and plenty of hand sanitizer, we will continue to keep markets open, safe, and thriving.