FRESHFARM
Give Local Together on May 5th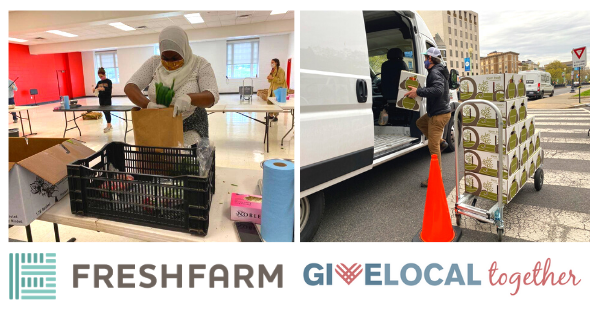 On May 5th, people will come together to help those who are especially vulnerable during the COVID-19 pandemic. FRESHFARM is partnering with the Catalogue for Philanthropy in the #GiveLocalTogether campaign to serve families experiencing hunger and food insecurity with the food they need to get through this crisis.
FRESHFARM strives to minimize hunger and ensure families are nourished with high-quality food. During the COVID-19 crisis, we are keeping farmers markets open as an important access point for fresh food while supporting local agriculture. We are home-delivering fresh produce to vulnerable seniors and families, and we are providing distance learning food education resources for children to do at home.
Only on May 5th, Catalogue for Philanthropy will be awarding the top 3 nonprofits with the most unique donors with a potential $500, $1,000, or $2,000. If you can give even just $10, that would be amazing!
If you can lend your support to help families in need, please donate at www.givelocaltogether.org/team/freshfarm.
You can also start your own fundraiser and raise money for FRESHFARM by clicking the button "Join Team." Download our Give Local Together Toolkit with instructions and content to help you fundraise. Thank you for your support!