FoodPrints
Coming Together with FoodPrints — Social Emotional Learning in the Classroom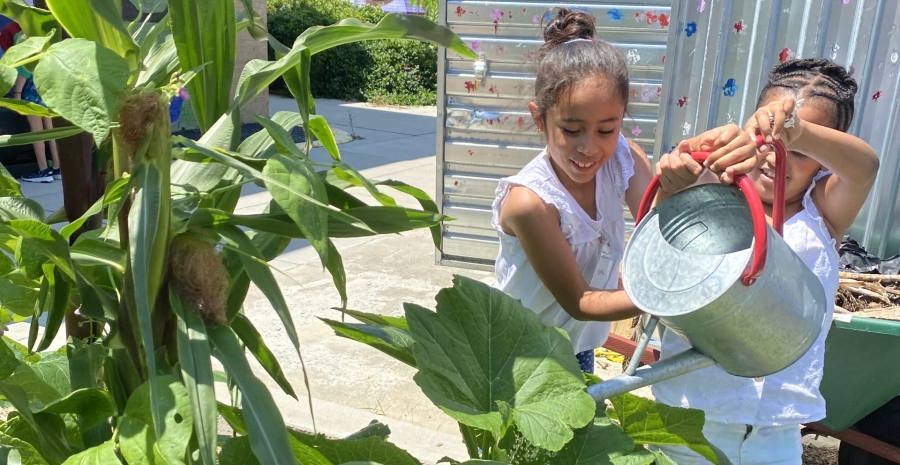 FoodPrints Summer Program recently came to an end at Marie Reed Elementary after five weeks of joyous learning in the garden and kitchen. And while some students arrived having participated in FoodPrints hands-on, interdisciplinary lessons during the school year – for many, this was their first time engaging with the curriculum.
Warming Up With Summer
First-day butterflies soon fluttered away as both classes settled into the summer and grew more comfortable with each other. FoodPrints educators regularly encourage students to work together collaboratively, and try to involve them in every step of the learning process. This is a great way to effectively engage students, but it also has the added benefit of increasing their social emotional learning through practice with collaboration. For instance, at the start of the program FoodPrints teachers asked students to create their own expectations for the garden and kitchen, effectively making them responsible and giving them autonomy over their own behavior. When new students arrived at the start of the second week, the class was quick to call attention to the fact that they should sign on to the expectations before continuing with the day.
Kitchens and outdoor spaces are the perfect places for kids to participate in group activities, celebrate diversity, practice empathy towards themselves and others, and manage their emotions. In FoodPrints, students demonstrate knowledge gained through peer-to-peer learning, and by serving as mentors to each other. This can come in the form of the entire class helping a student to sound out a big word while reading the morning message, or maybe by one student encouraging another to be brave by trying new things in the kitchen. While cooking Sweet Potato Quesadillas one day this summer, Nico finished his plate for the first time and was overwhelmed with excitement. Bubbling with infectious glee, he encouraged his hesitant classmate to find the courage to try the dish as well. After a few moments, the tepid classmate tried the new meal multiple times and with increasing confidence.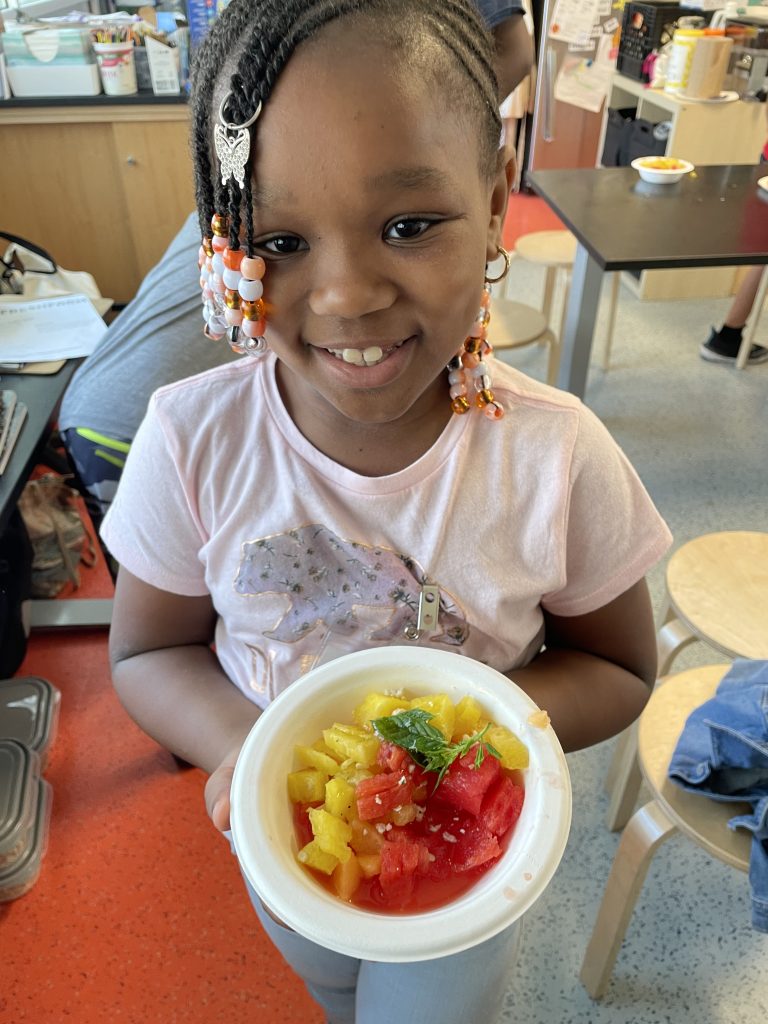 School Staff See It Too
These displays of bravery echo what we heard in focus groups with DCPS classroom teachers and school staff last year. One teacher shared how they have seen students' confidence grow as a result of FoodPrints:
"Our kids are way more confident in themselves in terms of cooking…and it's one of those things where their worldview is expanding in what they're capable of and what they can do."
Another educator noted the importance of giving students time and space to practice communication skills, especially in light of the pandemic and less opportunities to interact in person:
"Coming back from the pandemic, our struggle has been having students learn how to communicate with each other again. And what I found is that FoodPrints gives them that extra time to do that and it's in a safe, controlled environment…learning how to have respectful conversations and being excited about learning with their peers.
These stories illustrate how FoodPrints helps students develop social and emotional skills – like teamwork, cooperation, confidence and ownership – through hands-on experiential learning through cooking and gardening.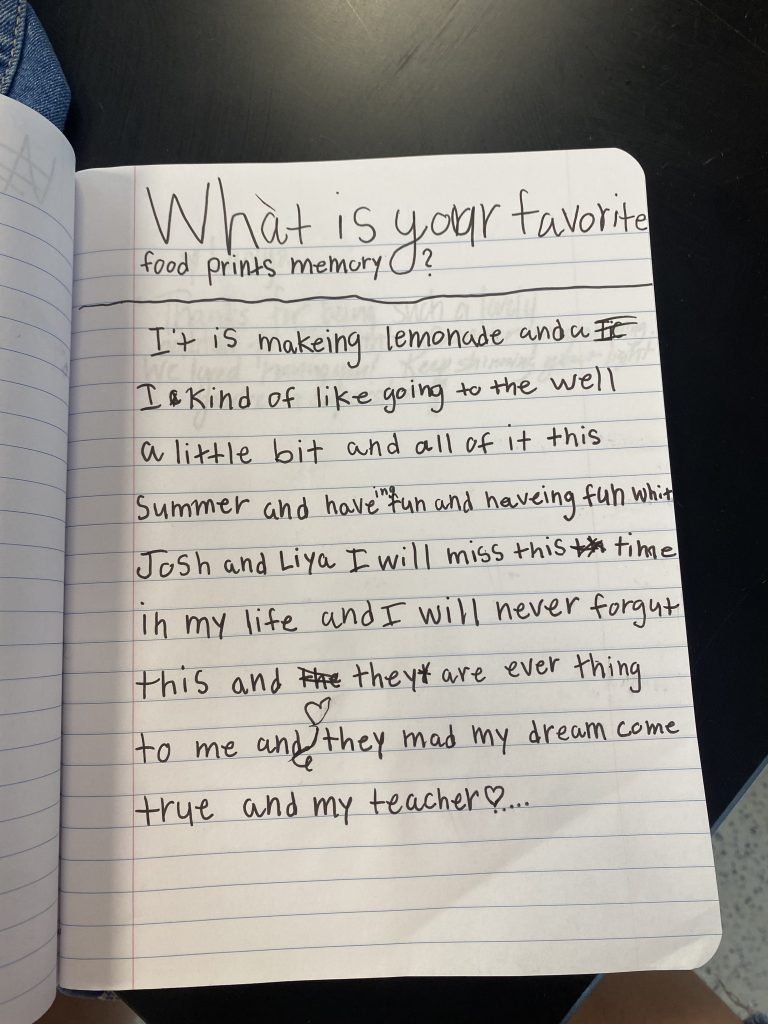 Lots of Love for FoodPrints
There's little doubt that the rising third graders loved the FoodPrints programming this summer, with many sharing that "FoodPrints is my favorite class ever!!" and "I would never miss a FoodPrints day." One smiley student, Laniya Springfielfd, wrote in her journal that FoodPrints "made her dream come true" and that she'll "never forget these moments."
By the time the program ended, the class had transformed into a small community. Students, like Nico and his friend above, were encouraging each other to try new things. Some were also opening up and sharing about themselves, their culture and their families. On the day the class prepared Melon Salad, a few of the bilingual students were so excited to share the Spanish translation of the ingredients. During Week 3 the class studied soil health, with lessons like What Makes Healthy Soil exploring different ingredients and properties of soil, as well as what types are best for growing food. At one point when talking about composting, one student felt comfortable enough to share a story about how her grandma collects egg shells to then add to her plants. It's these moments – when a classroom becomes a community – that provide the optimum learning environment for students to explore their relationship with each other, the environment, food, and their own health. It's what FoodPrints strives to cultivate, and a key part of how our educators approach their teaching.
It's our belief that if every student feels a sense of confidence and belonging in the classroom, then they'll be much more likely to be engaged with their own health, as well as the health of their communities and the environment. Or at the very least, they might be more likely to take a few bites of that sweet potato quesadilla.