FoodPrints
Hands-on Learning for Future Food Educators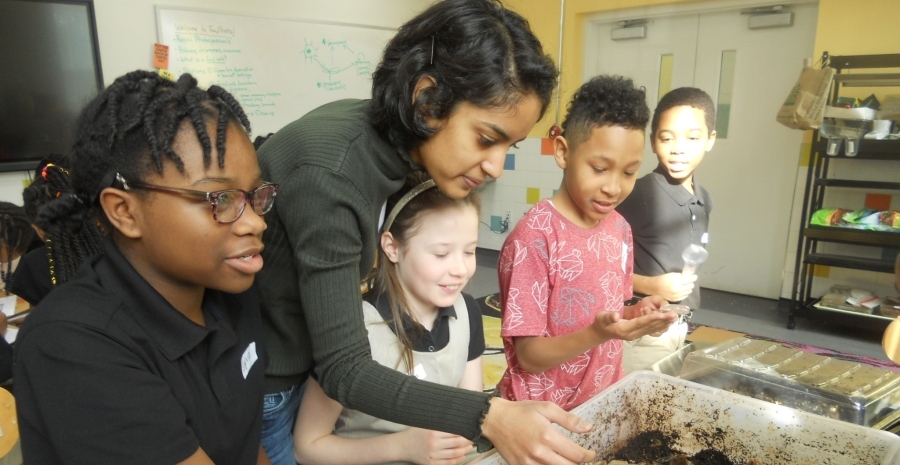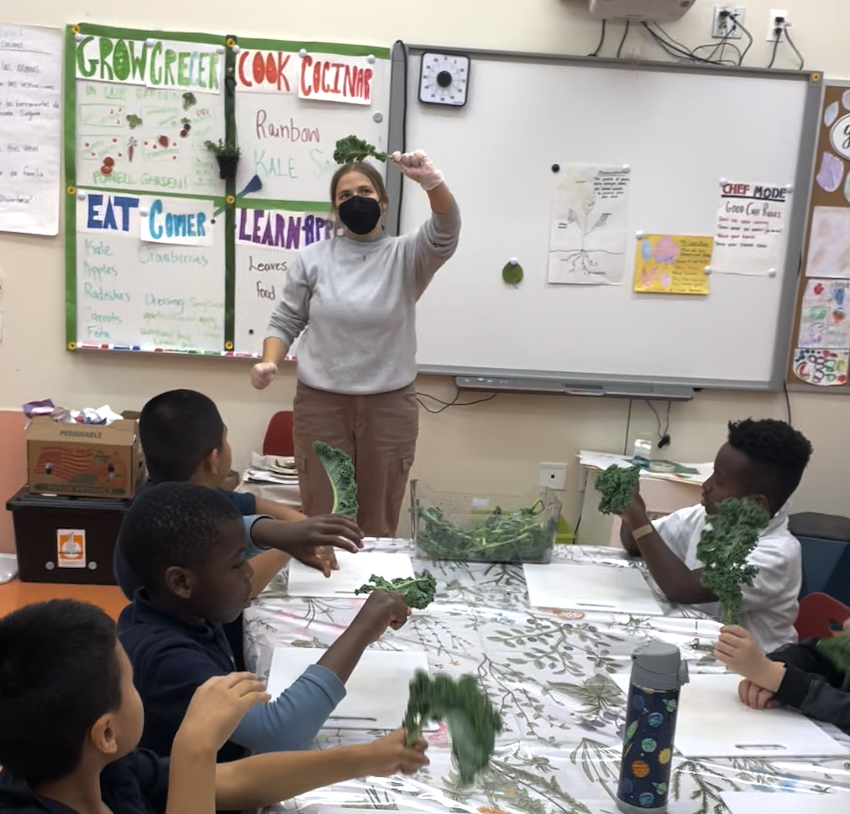 As an intern with FoodPrints, Anna Moore practiced getting kids excited about fruits and vegetables by helping them tear kale, chop garlic, and sauté peppers in a pan. She led small groups in the school garden, and saw her students' eyes light up when harvesting their first ever tomato or finding a caterpillar under a leaf. She also learned daily garden maintenance routines, and was able to lend a hand with watering, pest management, and planting. During her time as a FoodPrints intern, Anna gained professional and leadership skills – and went on to become a FoodPrints Assistant Teacher who is working this year at Powell Elementary. Anna is just one example of the success of the FoodPrints Service Learning Program!
History of our Service Learning Program
Since 2014, FRESHFARM FoodPrints has made service learning an integral part of its programming through volunteer and internship experiences for local high school and college students, FoodCorp Service Members, and members of the DC community. During the 2021-2022 school year, the FoodPrints program hosted 30 interns, placed in 11 schools. Several interns and FoodCorps members have also become FoodPrints Educators.
Ibti Vincent, our Service Learning Manager and Lead Educator at Francis Stevens Elementary started as FoodPrints' first intern in 2011, moved to become a Lead Teacher, and has since created and grown our service learning program exponentially. In her work as Service Learning Manager, Ibti has created working relationships with area universities that align with academic and professional development goals for participating students.
FoodPrints service learners are interns, graduate practicum students, volunteers, and federal work-study students, and have come from 7 area universities: American University, George Washington University, Catholic University, Howard University, Georgetown University, University of the District of Columbia, and George Mason University.  We also work with the School Without Walls Internship Program, enabling local high school students to participate in our service learning program.
Professional Development is core to service learning
Our service learners experience professional development through immersive, hands-on, in-classroom experiences in our partner schools. Through shadowing and supporting the Lead Teacher as well as actively leading small groups of students in the kitchen and garden, service learners practice talking with students about food and nutrition, and learn how to effectively prepare nutritious meals with young learners and basic garden care by helping to provide routine maintenance at their school's garden.
Service Learners reflect on their FoodPrints experience
In a feedback and reflection survey, university students interning with FoodPrints shared what they learned in their semester or year working in FoodPrints classrooms, benefitting from mentoring by seasoned FoodPrints staff and multiple valuable teaching moments with DC public school elementary students. The students shared that they learned:
Leadership, communication, and how to adapt to different grades and learning levels
Patience, independence, and communication
Cooking, gardening, and nutrition
Problem solving skills
How to work with diverse students
How to have adult professional relationships
FoodPrints & FoodCorps: 7-year service learning partnership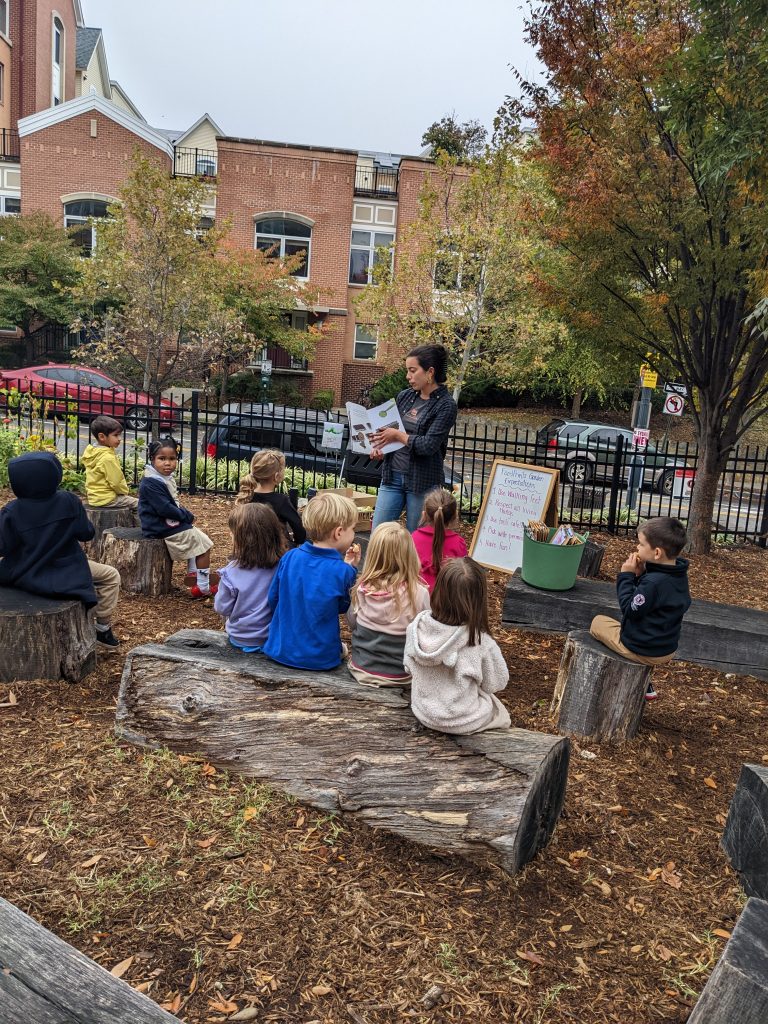 FRESHFARM FoodPrints has partnered with FoodCorps for 7 years – over this time, 9 service members have taught alongside FoodPrints teachers in 6 schools. One of these service members is Miki Nakano who as a FoodCorps Member worked during the 2021-22 school year supporting the Lead Teacher at Langley Elementary with cooking and gardening lessons, management of the garden, and community engagement. Miki thrived in the role of FoodCorps Service Member and was promoted and hired as a FoodPrints Lead Teacher at the start of 2022 school year. Miki has also become part of the FRESHFARM Community Engagement team which aims to create a more equitable and vibrant food system. Miki values the connections with students she builds when teaching in school gardens and cooking with students — and how these allow for deeper conversations about sustainability, cultures, equity, and equality.
The future of service learning with FoodPrints
We look forward to growing our Service Learning Program in the coming years by continuing our work with university students and FoodCorps, and building stronger relationships with local middle schools and high schools.