FoodPrints
Farm to School Collaboration: Connecting Lunchrooms, Classrooms & Gardens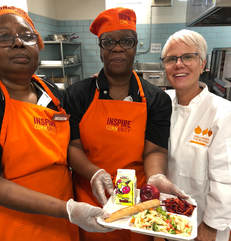 Since fall 2017, school cafeterias in a pilot group of FoodPrints partner schools have been scratch-cooking seasonal recipes that students are also preparing in their FoodPrints classes. This school year, that pilot is expanding under a new Farm to School project to transform eight school lunchrooms in DC. This Farm to School grant is one of 73 projects across the country funded by the US Department of Agriculture this year.
In this DC project,
Cafeteria teams scratch-cook the same recipes in the lunchroom that students are preparing in the their FoodPrints classes.
A chef coach trains and supports cafeteria staff and talks to students about what they are eating.
Lunchrooms are filled with images of students gardening and cooking.
Procurement focuses on fresh, whole, local ingredients.
​Partners in this innovative Farm to School collaboration are: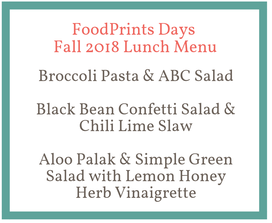 DC Public Schools Division of Food and Nutrition Services leads implementation of new procurement, kitchen infrastructure, and scratch-cooking processes to support Farm to School goals.
FRESHFARM FoodPrints provides the food and garden education experiences in which students harvest produce from the school garden and cook the same nutritious recipes in the FoodPrints classroom that are prepared in the lunchroom.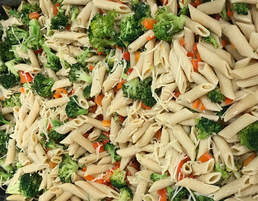 Wellness in the Schools leads menu development and provides a Chef Coach in all participating lunchrooms to train and cook alongside cafeteria staff.
SodexoMagic collaborates in menu development and training, and supports its cafeteria staff in transforming the way they prepare and serve food.
Norma Johnson, one of the participating cooks at SWS, is excited about scratch cooking and learning new recipes and techniques: "I love being able to order fresh ingredients and then prep them. It smells so good and I know it's good for the students. I am learning so much… I am very excited about the program and look forward to cooking on FoodPrints days."