Food Access
FRESHFARM Nabs $1.4 Million USDA Grant to Expand Food Access In Washington, DC, Maryland, & Virginia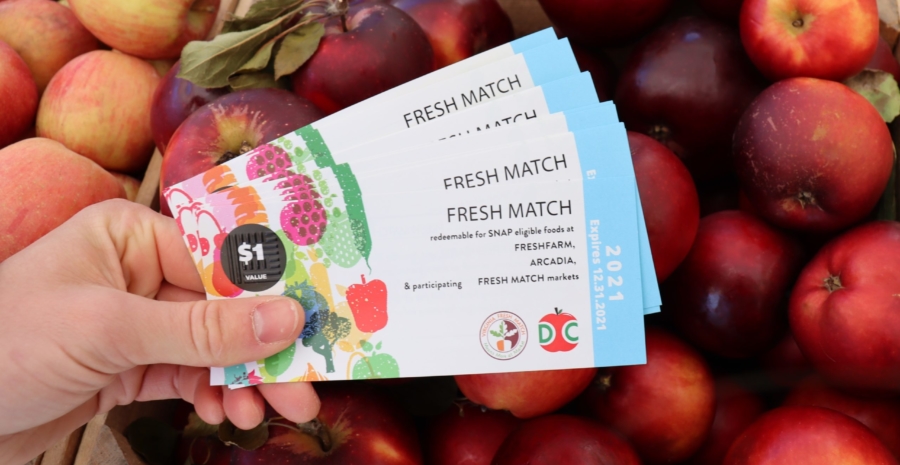 In 2008, FRESHFARM's H Street NE market was the first farmers market in the District to accept Supplemental Nutrition Assistance Program (SNAP) benefits as well as offer a benefits match, paving the way for other markets in the city to do the same. Flash forward 13 years later and FRESHFARM continues to take a leading role in improving food access in the region, this time as the recipient of a $1.4 million four-year USDA Gus Schumacher Nutrition Incentive Program (GusNIP) grant.
GusNIP, formerly known as the Food Insecurity Nutrition Incentives (FINI) Program, is a USDA grant program that aims to increase fruit and vegetable purchasing among SNAP consumers by providing incentives.
FRESHFARM will use this grant to establish a one-of-a-kind, multi-state, and multi-sector SNAP Incentive Coalition to incentivize the use of nutrition benefits among eligible residents to purchase fresh fruits and vegetables at more than 110 farmers markets and community-supported agriculture (CSA) programs in Washington, DC, Maryland, and Virginia.
What Problems Will The Coalition Address?
This new, yet-to-be-named Coalition will increase SNAP shoppers' convenience and agency at regional farmers markets and CSAs by creating incentive program reciprocity across borders, consolidating incentive program outreach and marketing efforts, and supporting improved management, data collection, and financial reporting systems.
The Metro Washington Region is a unique environment with highly porous borders. Market customers and farmers alike frequently connect to buy and sell at farmers markets across state lines. "For folks that live in Maryland or Virginia but work in DC (and vice versa), taking full advantage of healthy food nutrition incentive programs is complicated by a lack of regional coordination," explains FRESHFARM Incentive Program Director Nick Stavely. "Efforts to increase food access across the region are almost always localized, with next to zero organizations working regionally. The new Coalition will benefit the region by creating reciprocity and connectivity among the existing state incentive programs: Virginia Fresh Match, Maryland Market Money, and DC Fresh Match. Collective action will allow us to achieve our goals better together."
Who Will Be Part of the Coalition?
This grant came together through regional cooperation of local elected officials, food system leaders, and other nonprofit organizations. Coalition partners include:
The Metropolitan Council of Government's Food and Agriculture Regional Member (FARM) Policy Committee;
Local Environmental Agriculture Project (LEAP), which runs the Virginia Fresh Match incentive program;
Southern Maryland Agricultural Development Commission (SMADC), which runs the Maryland Market Money incentive program;
All regional state SNAP offices (DC Dept. of Human Services, VA Dept. of Social Services, MD Dept. of Social Services);
The DC Food Policy Council;
A collection of independently run SNAP outlets across the region, including but not limited to: 14th & U and Bloomingdale farmers markets (Washington, DC), Arcadia Mobile Markets (various locations), Common Good City Farm's urban farmstand (Washington, DC), Crossroads Farmers Market (Takoma Park, MD), and Old Town Farmers' Market (Alexandria, VA).
How Will the Coalition Impact the Regional Food System?
By securing this highly competitive USDA grant, FRESHFARM and the Coalition will make significant in-roads in creating a more equitable, resilient, and sustainable regional food system. "The GusNIP grant brings $1.4 million in federal dollars to the region, to increase fruit and vegetable purchases and consumption for more than 20,000 SNAP households in the Metro Washington Region," notes Hugo Mogollon, FRESHFARM's Executive Director. "Such outcomes are possible thanks to the unique regional reach of FRESHFARM and the collective  impact of  our coalition members." The incentive program will also improve sales and profitability for local farmers.
FRESHFARM looks forward to working with regional governmental agencies and dozens of local stakeholders to build healthy communities where people have the agency to purchase local fruits and vegetables, and to strengthen our regional food system by improving the livelihoods of local farmers.