Food Access
That's a Wrap! FRESHFARM Concludes First Season Administering Produce Plus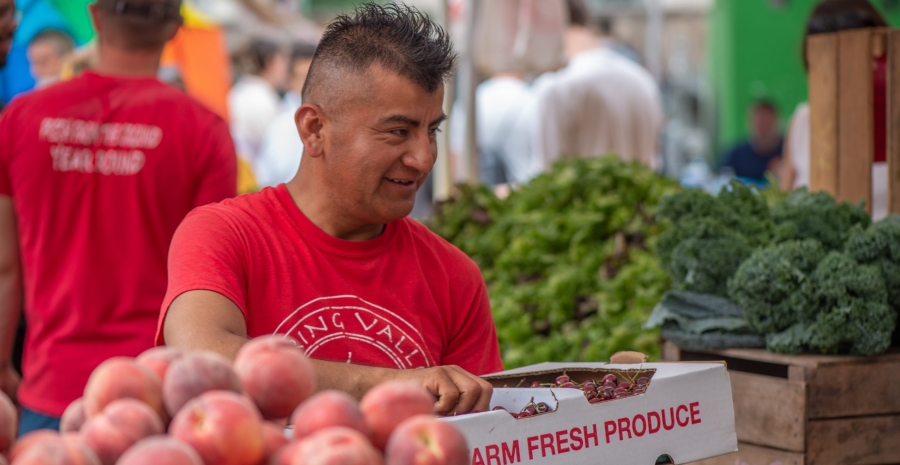 FRESHFARM Concludes First Season Administering Produce Plus
We are thrilled to share that in 2022, the Produce Plus program served over 6,000 Washington, DC residents and over 34 farmers and merchants across 50 locations from June 1st through November 30th. Produce Plus shoppers spent over $900,000 dollars on fresh, local produce this season. Through these funds, the program helped address critical food security needs with choice and dignity while simultaneously supporting local agriculture on a grand scale.
Produce Plus is the District of Columbia's locally funded city-wide farmers market produce incentive program. Putting feedback from community listening sessions (collected by DC Health) into action, FRESHFARM's new program design and digital management system reduced administrative burdens and waitlist times while centering agency and purchasing power with the customer.
Digitizing the Program and Expanding Choice For Produce Plus Participants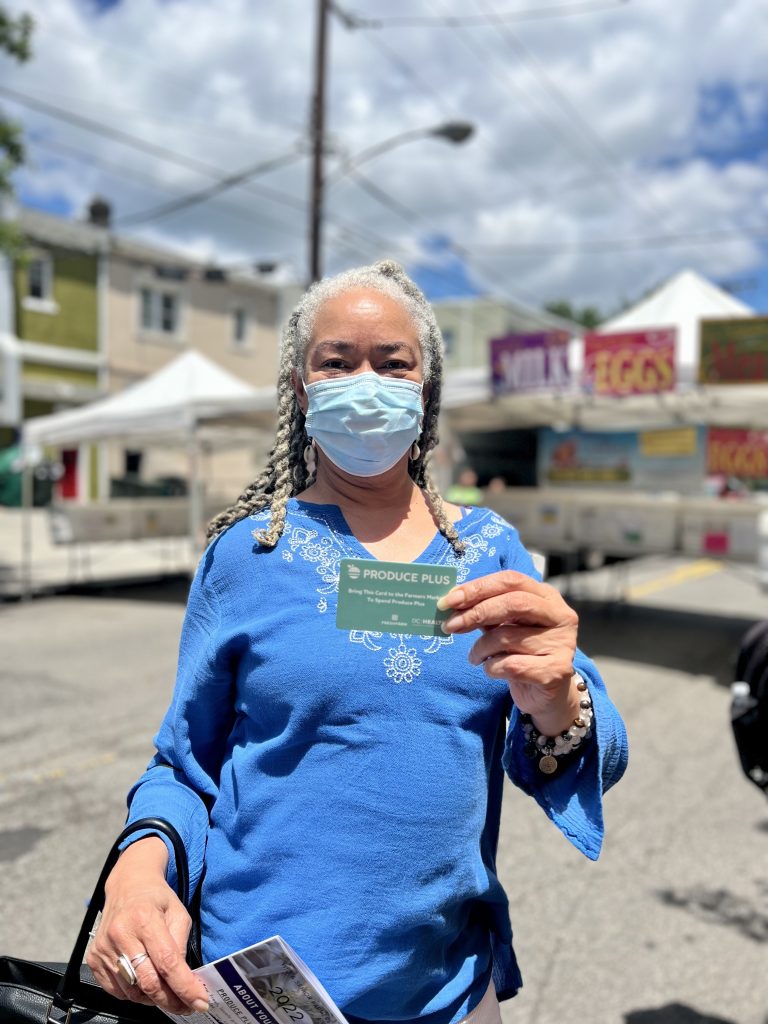 Throughout the summer and fall, Produce Plus participants receive a card loaded with at least $40 per month to spend on local produce of their choosing at participating farmers markets, mobile markets, and farm stands throughout Washington, DC. Customers have full choice to buy any produce item from any participating farmer at any participating location — a program design update specifically implemented to further empower DC residents in purchasing nutritious food.
In previous years, Produce Plus was administered to participants via the distribution of paper checks, which were handed out on a first-come-first-serve basis each market day, frequently resulting in long lines, wait times, and stress. In response to community listening sessions facilitated by DC Health, FRESHFARM proposed and implemented a new program design and digital benefits management platform to address community concerns and improve efficiency. The switch to a membership model reduced elements of first-come-first-serve, and our work with cross-sector partners enhanced program administration and data collection. While not without its initial hiccups, transitioning to a digital system significantly improved customer agency at the farmers market and shopping experiences. An end-of-year survey of shoppers showed an overwhelmingly positive response to program changes. One satisfied survey taker notes:
"I am really pleased that the program was modernized with the use of digital cards, and that once the program was up and running, making purchases was easy peasy. Plus you get your monthly balance in a notification immediately after making a purchase. The operation is now so much more efficient and program participant friendly, and program participants are no longer stigmatized by being able to choose only certain produce from a designated section."
To best serve as many DC residents as possible, we significantly expanded how folks could register for the program. In partnership with more than 15 different non-FRESHFARM markets, federally qualified health centers, and senior support and social service organizations, we offered program enrollment and information through online, in-person, phone, and referral channels in seven languages. Customers could also opt in to receive program updates during the season via email or text in their preferred language.
Extending the Season
This year also marked the first time since the program's inception in 2014 that the season extended past September 30th. In 2022, we extended the season into the fall, and Produce Plus shoppers spent the most benefits in October and November. The season extension helped serve DC residents and sustain healthy food retail establishments, especially those east of the Anacostia River, longer into the fall, and will continue to be a priority in future seasons. That's six whole months of Produce Plus!
Produce Plus Partners
We would like to thank all of our farmers and mobile market partners this season, as well as our social service, clinic, and community partners for assisting with customer enrollment, card distribution, and support:
We look forward to continuing to work closely with our network of community partners, both old and new, this upcoming winter and spring. Please keep your eyes out for an in-depth program report, and new 2023 customer recertification and enrollment information this spring! If you have a card from 2022, please keep it!