Food Access
Food Access at Markets This Summer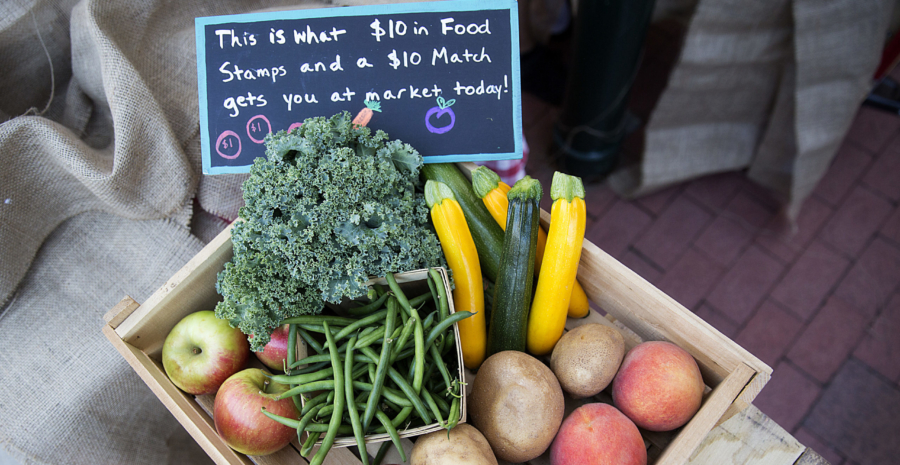 With market season in full swing and COVID-19 safety precautions still in place, our efforts to increase access to fresh, healthy food for those shopping with SNAP, WIC, and Senior Farmers Market Nutrition Program benefits are more important than ever. These programs help our most vulnerable community members access fresh food and are made possible by many organizations and programs across DC, Maryland, and Virginia working together.
Through FRESHFARM's FRESH Match program, we provide a dollar-for-dollar match for those shopping at market using federal nutrition benefits, increasing customers' purchasing power within the farmers market. At our Virginia markets, we now offer an UNLIMITED match for any shopper using SNAP benefits, thanks to increased funding from Virginia Fresh Match.
In Maryland, last month the Southern Maryland Agricultural Development Commission (SMADC) partnered with the Maryland Agricultural and Resource-Based Industry Development Corporation (MARBIDCO) to acquire the Maryland Market Money program (MMM), previously run by the now disbanded Maryland Farmers Market Association. Maryland Market Money helps support the FRESH Match program at our Downtown Silver Spring market, and we are excited to partner with SMADC and MARBIDCO to continue helping Marylanders access fresh, healthy food.
In DC, there are several programs available at markets to help low-income shoppers. The DC Department of Health recently released Farmers Market Nutrition Program checks for WIC and Senior participants. Spend these checks at the market and we will match what you spend! For questions about the WIC and Senior programs, contact the WIC office at the DC Department of Health, or the DC Department of Aging. As always, SNAP shoppers may use their benefits at the market at any time and receive a match at DC markets. Ask a market manager for more information.
Also in DC, Produce Plus has returned, re-imagined this year as Produce Plus Direct to help maintain social distancing and contact-free transactions. For the 2020 season, which runs from July 14 to September 30, participants in the program have the option to select different boxes of free produce each week for market pickup or home delivery. Customers must sign up at the beginning of the season, and slots are assigned on a first come, first served basis. Sign up NOW online or by phone at 202-888-4834. Many locations have already sold out for the season, but some are still open and waitlist spots are available.
Finally, at the Columbia Heights market, we offer free summer meals to children as part of the DC Free Summer Meals Program. The program aims to help families with school-aged children, or anyone under the age of 18. Stop by the info tent and get a free meal!