Farmers & Producers
Wagyu Like No One Else: Spotlight On Ovoka Farm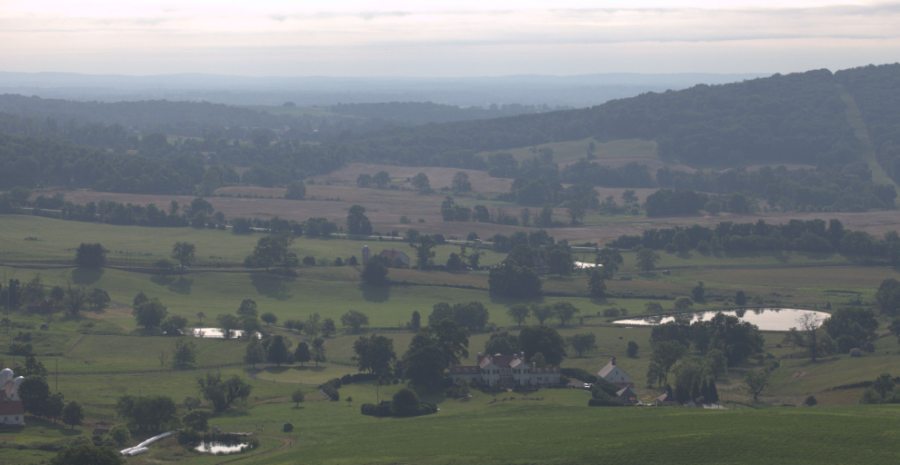 Nestled in the foothills of the Blue Ridge Mountains, about 40 miles west of Washington, DC, Ovoka forms the western boundary of fertile Piedmont and extends into the Shenandoah Valley. "Our unique location, at the intersection of these three features, creates a rich and complex microclimate that imparts to our meats an incomparable quality." Karen Way, CEO and Farmer of Ovoka Farm (Paris, VA), tells us.
Ovoka Farm History
"Ovoka's history predates that of the United States. Originally part of the 3,000-acre Robert "King" Carter land grant in 1731, Ovoka was surveyed by George Washington in 1769. A stone building still stands on Ovoka that Washington used when he surveyed the property. Remnants of the farm's original 18th-century stone structure are still seen under the farmhouse, which itself dates back to the 1730s.
During the Civil War, Ovoka served as an important strategic location, with both armies occupying the farm at multiple points," Karen explains. "Ovoka became a focal point for equestrian sport in the early 19th century, with the first trotting track in America. Three centuries after its creation, Ovoka remains, at its core, a working farm with an inseparable connection to the land. We were inspired to continue this farming tradition on Ovoka  and to follow what we hold as our core value: sustaining our families and our communities."
Sustainably Raised Wagyu Beef
Ovoka Farm has recently joined the FRESHFARM family, bringing to market high-quality Wagyu beef, raised on their sustainable farm. "Ovoka does Wagyu like no one else," Karen tells us. "We are driven by the idea that there is significance in what and how we choose to eat with every meal being an opportunity to connect with friends, family, and the community. Each year, we hand-raise and take our time with our herd, giving them the best life possible while grazing on the lush grasses from the Ovoka terroir."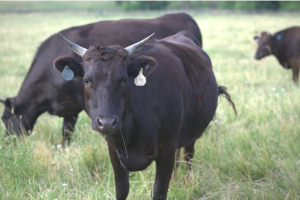 From feeding to breeding, Karen details the entire process: "We developed our own custom, two-phase, all-natural and non-GMO grain finishing program because we care about the health of our cattle and our clients. We are constantly reviewing, testing, and improving our nutritional program for our cattle's ongoing health — from a mama receiving the best mineral supplement to maximize her milk production for her and her calf's healthfulness, to making as much of our own hay as possible to keep the food circle closed. When we outsource products, we only work with similarly-minded farmers to ensure the highest quality of the outsourced product, from hay to the ingredients in our feed."
"Our farming philosophy revolves around transparency and education, so we are proud that we can say that the origin of our herd's DNA is from 100% full-blood Black Wagyu embryos imported from Japan with AWA registered parentage. For over a decade, we have grown our Full Blood herd by monitoring the genetics we use in the breeding process to ensure the strongest and the best output both in terms of the animals and the steaks. With guidance from the industry's leading authorities, we developed, refined, and control the entire breeding process for our cattle. Throughout their life, our cattle are hand-raised, grass-fed, and finished with only all-natural and non-GMO grain recipes developed by Wagyu-expert veterinarian Dr. Jimmy Horner specifically for Ovoka to ensure ideal nutrition in the Virginia environs. In addition to our Full Blood Wagyu, we also breed our Wagyu bulls with our Angus heifers to produce an F1 (50/50) Wagyu-Angus cross. Our sales efforts focus on our F1 Wagyu because our wholesale and retail clients agree that the F1 cross results in the best taste, best availability, and best price."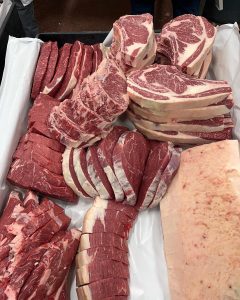 Ovoka Farm takes a sustainable approach to their land, their cows, and how they cut their steaks. "As part of our business model, we cut steaks from the entire cow, because we can, and our clients appreciate the diversity of those options. Ovoka's Sustainable Steak Program focuses on showing customers life beyond ribeyes. The F1 cross takes the flavor profile of the Angus and the interstitial marbling of the Wagyu to create tender and delicious beef. Also, because we are an F1 cross, we can butcher delicious steaks from primals that, if the same cut came from an Angus, would be tough and chewy. The resulting assortment of delicious, clean steaks at price points that fit everyone is a realization of a key value of the company – from the ribeye to sirloin tip steak," Karen describes.
The Farmers Of Ovoka
While Karen discovered her passion for farming later in life, she "spreads the word that farming is an amazing career choice that kids need to know is an option to pursue." She finds that the best way to spread the word about how amazing a career in farming can be is by bringing people to Ovoka "to share our passion for our farm and cattle and hope to pique our guests' curiosity and inspire their own passion for the land. Ovoka offers numerous creative farm tours throughout the year and we are excited to welcome the public to visit the farm and experience the beauty and spirit of Ovoka."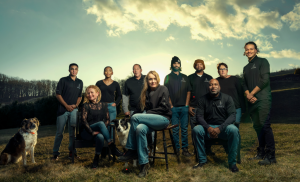 Prior to moving to Ovoka in 2010, Karen had a career focused on land use and public service as an urban planner and dirt lawyer in Chicago. It wasn't until she met her first cow that she put it all together, farming was her calling! "For a decade, the Ovoka herd grew and developed. It took a while, but when the opportunity presented itself in 2020 to assume management of Ovoka's Wagyu cattle & ag-tourism operations, there was no hesitation, I started working the next day with the title of Farmer and CEO," Karen tells us.
Karen was joined in January 2021 by Jessica, who she had previously only known as her kids' friend's mom. Karen explains that "Jessica took a leap of faith to join as Ovoka's Chief Operations Officer on the adventure of a lifetime – to revamp an exotic-breed cattle farm with the 'Crown Jewel' of Fauquier County Manor Home as the backdrop, into a successful embryo to steak operation. Jessica's extensive retail background was essential to Ovoka's ability to bring its meat to market."
"Although neither of us came into this world as cowgirls, with both boots on and in, non-stop sweat-equity and complete dedication to our new profession, we continued to hone our skills to become accomplished herdsmen and ranchers.  But the missing piece to optimizing operations was found in Roy Lambert," Karen tells us. "Roy, a lifelong local farmer, was the regional manager for the farmer Co-Op for three decades. After joining Ovoka, Roy — incorporating the best sustainable farming and husbandry practices to minimize waste and maximize the productivity of land — has revamped the Farm Management Plan for the pastures, fencing, and water resources, and has revamped the breeding and herd expansion plans to meet the growing demand for Ovoka Wagyu beef in an environmentally conscientious, sustainable manner. We're a small team, so everyone pitches in for everything from feeding to fencing. Our local herdsmen James and Henry keep watchful eyes over the entire herd every day."
Karen continues, "the next generation of Ovoka management, Avery (Jessica's son), Nik & Lucky (Karen's godsons), and Alaina (Roy's daughter) are honing their skills and learning the ropes to take Ovoka to the next level as we continue to grow."
Find Ovoka Farm's products and their team at Oakton every Saturday from 9am to 1pm, and Mosaic every Sunday from 10am to 2pm.