Farmers & Producers
Talking Happy Oysters with Sapidus Farms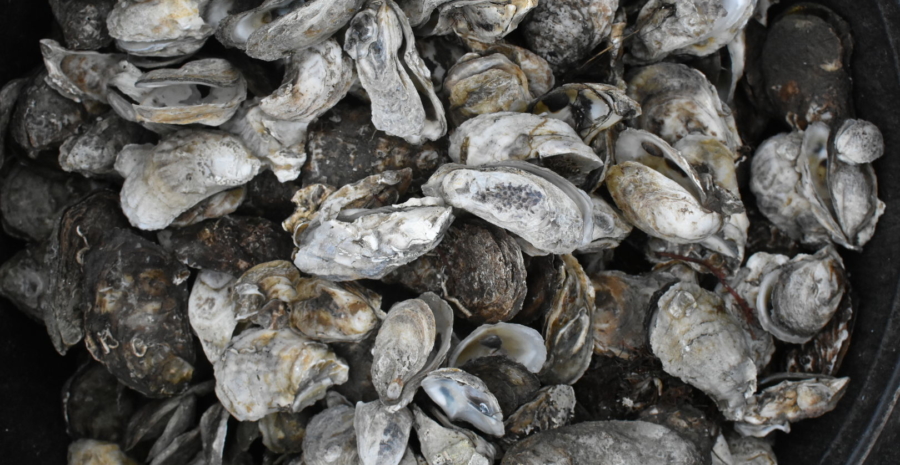 Sapidus Farms is an oyster farm owned and operated by husband and wife team Mike and Angelina Manyak. The farm got their start 12 years ago in 2009, when Mike fell in love with his parents' new retirement spot, in the Northern Neck of Virginia. After spending time teaching in the area, Mike decided he too was ready to call the area home and Sapidus Farms was born.
While bartending on the side and building up the business, Mike met his now-wife Angelina while out on deliveries, in the loading dock where her parents owned a local olive oil shop. They married, and Angelina told us through laughs that she was on the oyster farm the day after the wedding! She came on board unofficially in 2014, eventually leaving her full time job in 2019 to become a part-owner. Together, the couple raises what they lovingly call their "happy oysters."
Growing Oysters
Sapidus raises their oysters from spawning to harvesting, and currently have millions of oysters in the water! To begin, they purchase their oyster from larvae, which take approximately 2-3 years to reach adulthood. When larvae are ready, it's crucial that they attach themselves to a calcium source (called a cultch). In the nursery, Mike and Angelina nurse babies, and over time move them through a series of cages as they grow in size, and finally hand-select each oyster.
The Maynaks use raised cages off the ground to not disturb sea grass, without any dredging, and leaving all the wild oysters in the water. Amazingly, their operation filters 9.61 billion gallons of water a week, with a single oyster cleaning 50 gallons of water per day! Their location, nestled in the waters of the Great Wicomico River in the mouth of Tipers Creek, leaves them largely unaffected by rain, runoff and pollution.
Mike, Angelina, and daughter Isabel spend their days hand selecting each oyster, often listening to music and podcasts. "Isabel is pretty rad at harvesting oysters," says Angelina. They sell their happy oysters, typically 3+ inches (great for eating cocktail style/raw) as well as their happy roasters, typically 4+ inches. Sapidus uses their roasters for frying and their delicious oysters Rockefeller! Angelina added that historically in Chesapeake Bay, oysters would be often be 4-5 inches, playing a significant role in the diet of Native Americans.
Selling & Shucking Oysters
Sapidus Farms sells their oysters to grocery stores and direct to restaurants, including The Salt Line in DC, who orders fresh oysters up to twice a week. Pre-COVID, Sapidus had never participated in farmers markets, but has significant experience providing to caterers and live shucking at events. Last year when restaurants shut down, their business took a big hit, and they've been enjoying being a part of farmers markets since. "People always have questions about oysters. My husband is a teacher by nature, so he loves teaching about oysters," says Angelina. "It keeps us excited. When we get to interact with our customers, it keeps us going. It's what drives us. It's honestly what has kept us in business — loyal customers."  They love showing oysters to kids, in particular!
Among the many lessons they have to offer their market customers is shucking tips. "The key is finding right size table. Leverage is huge," Angelina explains. There are two schools of thought on a successful shuck – the lip or butt shuck. The former consists of going in on the hinge, using leverage until finding the sweet spot. With very sharp oyster knife, you simply wiggle around until you feel and pop it open. Lip shucking involves going in at the front of the bill, stabbing a hole in front and popping it open that way.
Remember to give your oysters a good scrub before you shuck them. Restaurants will scrub them perfectly before arriving to your table with their accoutrement, but you might find little creatures from time to time. "Pea crabs are good luck!" adds Angelina. For best storage, be careful to not cut off air circulation, simply placing a bowl in the fridge (no ice required) with a wet towel on top. Oysters are best eaten within a week.
Serving Oysters
When it comes to serving up your fresh oysters, raw is always an option, but Sapidus loves to steam or grill theirs. Unlike mussels who refuse to open if they are dead, oysters will already be open if the organism has perished, so chuck, don't shuck those!  When steaming or grilling, wait until a couple open up, and then begin to pull off the heat, and the rest should easily pop open. Mike and Angelina love to serve with cocktail sauce on a Ritz cracker for steamed oysters, while using a classic garlic butter for grilled oysters.
"We love what we do, and were happy when people are happy with their oysters," says the Sapidus duo. Angelina notes, "Women should join aquaculture and farming." In the Virginia marine sciences department, "nearly the whole team is women, but on the farm side, there are very few women. We're hiring!"
You can find Mike, Angelina, and their very happy oysters every Sunday at the Mosaic market.