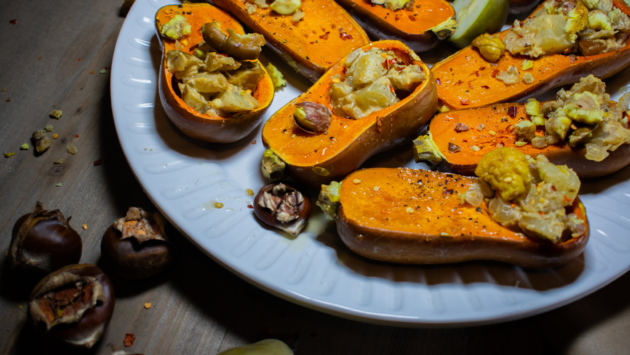 Ingredients:
Makes 8-10 servings
5 honeynut squashes
1/2 lb. chestnuts
1 cup diced pears (we suggest seckel pears, 5 in a variety of sizes, approx. 3/4 lb.)
1 small onion, diced
2 tablespoons butter
1/4 cup white wine (or even apple cider)
olive oil
salt & pepper
3 oz chevre
Honey, red pepper flakes (optional)
Directions:
Roasted chestnuts: 
Preheat oven to 425.

With a serrated knife (a bread knife works great), slice a large 'X' on the flat side of the chestnuts. NOTE: Be sure you slice through to the nut itself which allows steam to escape when cooking and easy peeling.

Bake until the shell of the chestnut is peeling back around the 'X' (depending on the chestnuts approximately 15-25 minutes).

Remove from oven and cover with dish towel to steam, 15 minutes. Allow to cool, then peel and chop to a coarse mixture. Reserve any extras for snacking.
Honeynut Squash:
Preheat oven to 425.

Rinse thoroughly and halve. No need to peel!

Roast for 25-30 minutes or until tender.

Drizzle with olive oil and salt and pepper.
Pear and Goat Cheese Filling:
Melt butter in skillet over medium low heat, adding diced onions. Sauté, stirring frequently, until aromatic and translucent.

Add pears, and mix with sautéed onions.

Add ¼ cup white wine, increase to medium high heat and allow to reduce down for 3 minutes or so. Lower heat and season with salt and pepper, stirring to combine. Remove from heat and set aside.

Mix pear mixture with chevre ( We are using Shepherd's Whey Nutty Pumpkin Chevre)
Assemble:
Plate butternut squash, flesh side up.

Place a dollop of the pear cheese mixture into the squash cavity

Sprinkle with chestnuts

Drizzle with honey or maple, sprinkle with red chile flakes, garnish with rosemary, etc. — get creative!