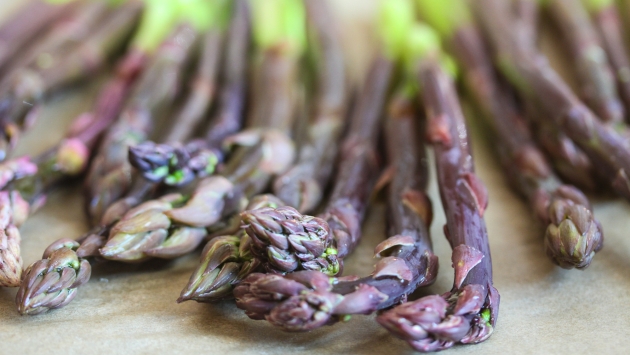 Ingredients:
2 bunches asparagus
plenty of olive oil
salt and pepper
fresh lemon juice
Directions:
Preheat oven to 425°F.
Wash the asparagus thoroughly – especially the tips. They should be swished in a bowl of water to rinse out any sandy soil they held on to as they grew upwards.
Break off any tough ends of the asparagus by snapping them (when you bend, it will naturally snap in the spot where it becomes woody). Place the asparagus on a rimmed baking sheet, and use a paper towel or clean dish towel to dry it as much as possible. Drizzle generously with olive oil and toss a little bit with your hand or a pair of tongs. Spread the asparagus in a single layer and sprinkle liberally with salt and pepper.
Roast the asparagus for 10-15 minutes, until tender but still crisp. Watch it closely to be sure it doesn't burn. Thin stalks will take less time and thick stalks will take a little longer.
Sprinkle with lemon juice as soon as it's removed from the oven and serve right away.