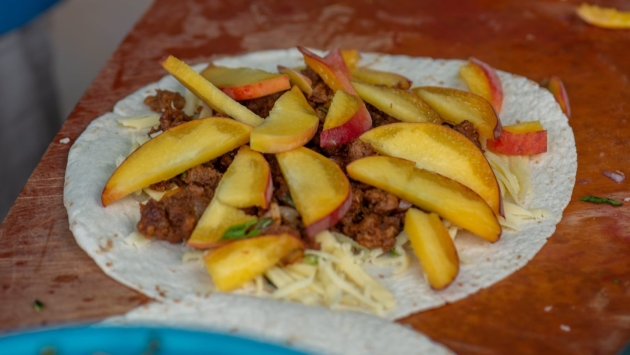 Directions:
Warm 1 tablespoon oil in 10-inch skillet over med-high heat.
Remove sausage from casings and add sausage to the pan with Chinese five spice and soy sauce. Sauté until browned. Remove with a slotted spoon. Reserve.
Add onion to the pan and sauté until softened and edges begin to brown. If the pan is dry, add another tablespoon of olive oil. Stir in cumin and season to taste with salt and pepper.
Assemble quesadillas: layer one tortilla with 1/4 cup cheese, 1/5th of the cooked sausage, peach slices, onions, and basil. Top with another 1/4 cup cheese and a second tortilla. Repeat with remaining ingredients to make five quesadillas.
Fry quesadillas in 1 tablespoon oil over medium heat, about three minutes per side, turning once when the tortilla begins to brown in spots.
Serve immediately and enjoy!
Explore Jonathan's website for more recipe ideas.