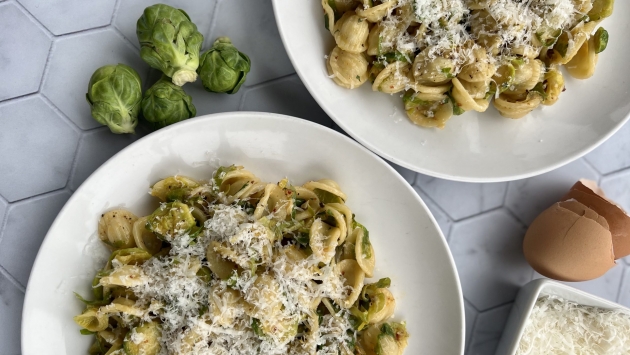 Directions:
Bring a large pot of water to a boil over high heat. Add 1 tablespoon of the salt to the water and then the pasta. Cook until the pasta is tender to the bite (starting to test it a minute or 2 before the guidelines on the box).
While the water comes to a boil, prep the Brussels sprouts: Trim any browned or dried ends and pull off dried out, browned, or yellowed exterior leaves. Cut the sprouts lengthwise into thin slices; the slices will fall apart into shreds a bit.
While the pasta cooks, in a large frying pan over medium-high heat, add the olive oil, garlic, and red pepper flakes. When fragrant and sizzling, add the shredded Brussels sprouts and the remaining 1/2 teaspoon salt. Cook, stirring occasionally, until the sprouts are soft, about 3 minutes. Reduce the heat to low and keep warm, stirring occasionally.
In a large bowl, combine eggs, grated cheese, optional parsley, and optional lemon zest and whisk until well combined.
When the pasta is done cooking, drain immediately, and add to the egg and cheese mixture. Toss to coat the pasta. Add the Brussels sprouts mixture to the pasta and toss to combine thoroughly. Add more salt, pepper flakes, or cheese to taste. Enjoy!