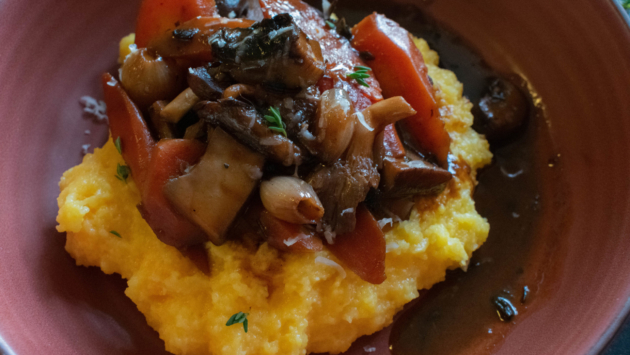 Ingredients:
2 Tablespoons butter
1 Tablespoon olive oil
4 Portobello mushrooms, cubed
7 ounces mixed mushrooms, like cremini and oyster, halved or quartered
6 ounces pearl onions
3 large carrots, sliced
1-2 sprigs thyme
1 Tablespoon minced fresh rosemary
2 Tablespoons tomato paste
1 cup dry red wine
2 cloves garlic crushed
2 cups mushroom stock or vegetable stock
2 teaspoons corn starch
sea salt and pepper
Directions:
Heat the butter and oil over medium heat in a large bottomed pan. Add the chopped mushrooms and brown. When the mushrooms have browned, remove them from the pan. Work in batches to avoid overcrowding, setting batches aside as you go.
Add another tablespoon of butter, then add the carrots and onion to the pan along with the rosemary and thyme. Season with salt and pepper. Sauté the veggies for 5-7 minutes or until the carrots and onions begin to brown.
Add the wine and crushed garlic to the pan and use a wooden spoon to deglaze the bottom of the pan. Stir in the tomato paste and add the stock. Increase the heat to high and bring the pot to a boil, then reduce the heat to a simmer. Simmer for 10 minutes, then add the mushrooms back to the pot.
Continue to simmer until the liquid has reduced by about half. Remove a couple of tablespoons of sauce from the pan and stir into a small bowl along with the corn starch. Add the slurry to the pan, increase the heat to high, and stir until the sauce thickens.
Serve over the cooked polenta or mashed potatoes.
Note: Pro-tip on pearl onions — slice the end opposite the root and drop in boiling water for 2 minutes or so. Drain, cool and apply pressure to root end, and the peeled onion will pop out easily!