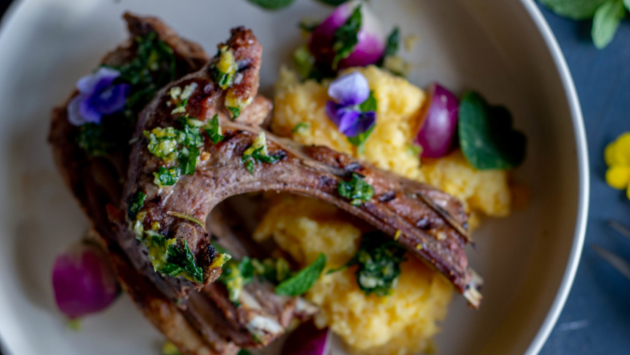 Ingredients:
4 rib lamb chops
1/2 cup olive oil
4 sprigs torn mint
2 cloves garlic
1/2 tsp. freshly ground pepper
Gremolata
2 cloves garlic
1/4 tsp. lemon zest
1/4 tsp. salt
1/2 cup loosely packed mint leaves
2 tsp. olive oil
Directions:
Place lamb chops, olive oil, torn mint, garlic, and pepper in a large, sealable plastic bag. Toss to coat lamb chops and marinate in refrigerator for 2 hours.
Remove chops, wipe off excess marinade, and season with salt and freshly ground pepper. Broil chops on high until medium-rare, about 3 minutes per side. Remove and let rest for 5 minutes.
Meanwhile, to make gremolata, crush garlic, lemon zest, and salt into a paste using the side of a large knife or a mortar and pestle. In a small bowl, stir together garlic paste and mint leaves with olive oil. Transfer chops to serving plate, brush with mint gremolata, and garnish with fresh mint, or even add edible flowers. Serve over polenta, or roasted crushed fingerling potatoes and a side of spring asparagus.