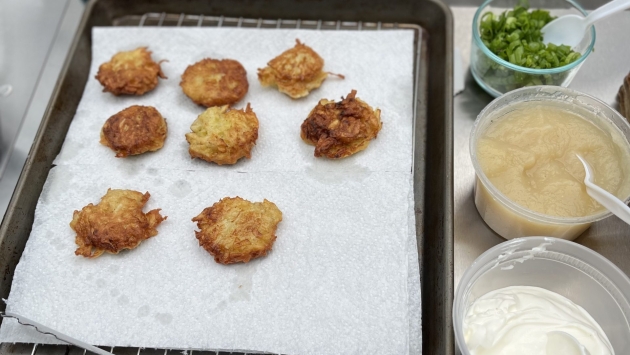 Ingredients:
1 lb. Russet potatoes, peeled (about 4 medium)
2 large eggs, beaten
1/3 c. all-purpose flour, matzo meal, or breadcrumbs
1 1/2 tsp. salt, divided
vegetable oil, for frying
2 tbsp. freshly chopped chives, for serving
applesauce, for serving
sour cream, for serving
Directions:
Using the medium or large holes on the box grater, grate potatoes on their longest side. Transfer to a bowl of water until ready to use. Using a clean dish towel, a strainer, or cheesecloth, squeeze out as much liquid as possible, or let drain in fridge overnight.
In a large bowl, add eggs, flour, and 1 teaspoon salt to the grated potatoes.
In a large skillet over medium heat, heat about 1/8" oil until shimmering. To test if oil is hot enough, sprinkle with some flour. If flour bubbles and dissolves immediately, the oil is ready.
Add a few spoonfuls of potato mixture to the oil and pat down with a spatula to flatten. Fry until crispy and golden, about 3 minutes per side. Transfer to paper towels to drain, then sprinkle with remaining salt.
Serve with chives, applesauce, and sour cream.