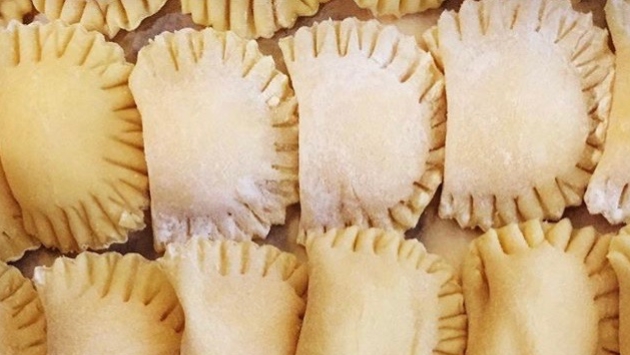 Ingredients:
For the Dough
2 cups flour
1/2 cup warm milk or water
1 egg + 1 egg yolk
2 tablespoons sour cream
1/2 teaspoon salt
1 teaspoon butter for richer dough (optional)
For the Filling
1 lb. cremini mushrooms (feel free to get creative here!)
1 4-5 lbs. butternut squash
1/3 cup melted butter
1/4 teaspoon pumpkin pie spice or cinnamon
salt & pepper to taste
1/4 cup cream
For the Sauce
8 tablespoons butter (1 stick)
1 clove garlic (crushed and chopped)
1/4 cup sage leaves (coarsely chopped)
1/8 teaspoon ground black pepper
Salt (to taste)
Directions:
For the Dough
Mix the ingredients in a standing mixer on low medium speed, being careful not to overmix. Knead the dough and let rest 10 minutes. Roll out until very thin (should be sturdy, but practically translucent) on a floured surface, adding flour as needed.
For the Filling
Preheat oven to 350°F. Cut butternut squash in half lengthwise and scoop out the seeds (save them for another recipe!).
Lightly brush the squash with melted butter (reserve the rest for mashing). Sprinkle with spices and place on a baking sheet cut side up and bake 1 hour or until very tender.
Scoop out the flesh and place in a large bowl. With a hand masher or an electric mixer on low, mix until smooth. Pour in cream and melted butter to taste. Season with salt and pepper.
While squash is roasting, clean, dice and sauté the mushrooms. Reserve your salting until mushrooms are golden brown, or the salt will draw out moisture, steaming the mushrooms, resulting in a rubbery texture! Set aside and mix with squash mixture.
For the Sauce
Melt the butter in a medium saucepan set over low-medium heat. When the butter begins to get just slightly bubbly, add the chopped garlic, stirring for about one minute. Add the chopped sage to the garlic butter and continue stirring for 1 to 2 additional minutes, until the butter has turned very light brown and has a rich, nutty aroma. Season the sage brown butter sauce with ground black pepper and salt, to taste. Remove from heat and set aside.
Assembly and Preparation
With a ravioli stamp (circle or square, up to you!), begin to create the pierogi, filling half the shape with squash and mushroom filling and folding over. With the tines of a fork, press down on the edges, until sealed. Repeat, repeat, repeat.
Bring a salted pot of water to boil, and gently add pierogi, boiling until they rise to the surface – only a few minutes. Meanwhile, heat the sage butter, and toss the pierogi to coat. Serve immediately and enjoy!
Extra uncooked pierogi can be frozen for later meals.