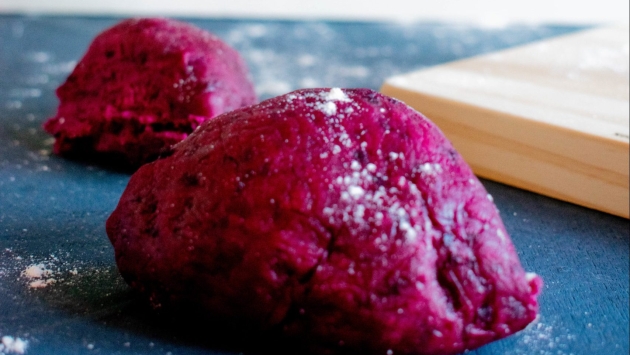 Ingredients:
Pasta Dough
2-3 medium beets
3 large eggs
1 large egg yolk
1 teaspoon olive oil
3 cups all-purpose flour
1 teaspoon fine sea salt
Beet and Goat Cheese Filling
1/2 cup finely diced roasted beets
salt & freshly ground pepper to taste
2 oz creamy goat cheese
2 oz ricotta
Garlic Sage Sauce
3 garlic cloves, sliced in half
1/4 cup good quality olive oil
4 sage leaves plus more for garnish
Directions:
Pasta
To make the fresh pasta with beets, start by washing your beets. Dry them and rub olive oil on the entire skin. Sprinkle with kosher salt, and wrap in a piece of aluminum foil. Bake in a pre-heated 350F oven for 45 minutes to 1 hour. Pierce it with a knife to test for doneness. Beets should be soft. Let beets cool down and proceed to skin them by rubbing with a towel. Puree 1 beet in a small food processor or blender, and reserve the remainder for filling.
To make the pasta, you may use a food processor, or just your hands, as long as the beets are already pureed. If using the food processor, mix pureed beets, eggs, yolk, and olive oil, and process until incorporated, just a few pulses. Add flour and salt to the food processor and pulse a few times to bring the dough together. Turn the dough onto a floured surface and knead it by hand for a few minutes until it has a very vibrant pink color. Dough should be smooth.
If not using the food processor, simply dump all of the flour plus salt on top of your clean counter or work surface. Then, open a hole in the center of the flour mound. In a small bowl mix the eggs, yolk, and beet puree with a fork, just until yolks are broken up a little bit. Add liquids to the center of the flour mound and gradually incorporate the flour with the liquid using a fork. Once dough has formed, you can start kneading it with your hands for about 8-10 minutes.
Wrap dough in plastic wrap, or place it inside a ziploc bag. Refrigerate for at least 2 hours, up to overnight. When it's time to roll the dough out, I recommend a pasta machine. You can, of course, use a rolling pin, but the machine does make things easier. Divide your dough into 4 pieces and roll each one out 3 times on number 1, while folding the dough over each time it is rolled in that setting. Then, roll it once in each setting up to number 5, without folding the dough. If rolling by hand, roll until the pasta is about 1/16″ thick.
Place pieces of rolled out pasta dough in a floured baking sheet. Cover with a clean kitchen towel, sprinkle the kitchen towel with flour, and place the other sheet of pasta dough on top, and keep doing that until you are done rolling out your pasta. I usually use about 8 kitchen towels to do this. Keep your pasta sheets covered or they will dry and you won't be able to shape your ravioli as easily.
Filling
Have your filling ready before you start rolling out the pasta dough. Finely dice your beets, and in a mixing bowl incorporate the cheeses, beets, and season with salt and pepper.
Lay your pasta sheets out, and towards the edge of one side, place a small amount of filling. Fold the sheet over, and using a ravioli cutter, cut your raviolis. Press down slightly if the area balloons around the filling, to seal the dough.
Boil immediately or freeze. Will last up to one month in freezer!
Sauce
Place olive oil, sage and garlic in a large sauté pan. Over medium heat, start to infuse the olive oil with the garlic and the sage. Cook the mixture for about 5 minutes, until the garlic becomes aromatic and translucent.
Meanwhile, bring a large pot of salted water to a boil. Add ravioli to the water in batches. Boil for about 5 minutes, until pasta floats to the top and the edges are softened. Using a slotted spoon, delicately transfer the cooked ravioli to the pan with the garlic sauce. Don't hesitate to splash in some extra pasta water as it will reduce and thicken as it finishes cooking in the olive oil. Top with fresh sage leaves and grated parmesan!