The Feast is going virtual this year! Join us to celebrate the harvest season in support of FRESHFARM's mission.
Feast Virtual Chef Demonstration
Featuring: Marcelle Afram, Executive Chef of Maydan + Compass Rose
Friday, November 13th
7pm – 8pm EST
FREE to attend
Option to purchase exclusive Feast Market Box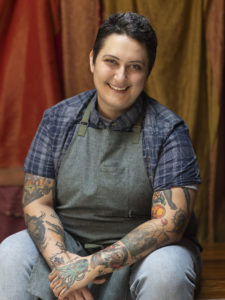 On Friday, November 13th, please join us for FRESHFARM's first-ever virtual Feast Chef Demo featuring Marcelle Afram, Executive Chef of two celebrated DC restaurants: Compass Rose and Michelin-starred Maydan! Chef Marcelle will prepare a locally-sourced, seasonal recipe with ingredients from the farmers market and share tips and tricks from the Maydan and Compass Rose kitchens, drawing upon the flavors of the Middle East.
This special virtual event is FREE, with the option to purchase an exclusive Feast Market Box of locally-sourced ingredients to replicate the Chef Demo recipe at home! (Feast boxes available to households in DC, Maryland, and Virginia within the I-495 Beltway.) We will deliver Feast boxes to homes on Saturday, November 14th. Proceeds from Feast box purchases support FRESHFARM's mission and programs.
At a time when we can't gather together in-person, we hope you will join us in this virtual format to celebrate the exceptional local products we have in our region, even in these challenging times. The Feast Chef Demo promises to be a fun and engaging hour to honor our local harvest and learn more about the work FRESHFARM has done this year in response to COVID-19.
RSVP to the Feast Chef Demo to receive email updates about the event! If you are unable to attend, please consider making a donation to FRESHFARM. All proceeds will support FRESHFARM's efforts to sustain farmer livelihoods; provide healthy, local food to underserved communities; and promote healthy eating through nutrition education.
Interested in sponsoring the event? learn about our sponsorship opportunities here, and sign up to sponsor here.
Sponsors
Silver

Buffone Family Foundation
Joan Fabry & Michael Klein
Bronze
JBG SMITH
Farmer Friend
Dr. Katherine Alley & Dr. Richard Flax
Lizette Corro
Edible DC
Sam Fromartz & Charlotte Young
Michael & Marlana Kain
Nick & Gardiner Lapham
Nancy Swope
About Chef Marcelle Afram
Marcelle Afram is the Executive Chef of Compass Rose and Michelin-starred Maydan in Washington, DC. Growing up in a Lebanese and Syrian family and Syriac home in Maryland, Afram's culinary style draws upon these roots to pay homage to the flavors of the Mesopotamia.
Previously, Afram was the Executive Chef at BlueJacket Brewery overseeing an extensive menu of American eats, and prior to that was Chef de Cuisine at Zola Wine & Kitchen and Executive Sous Chef of its sister restaurant, Potenza Trattoria and Bakery. Afram began learning hands-on, from working on fishing boats in Puerto Rico and a grass-fed beef cooperative in Wisconsin to stages in Michelin-starred restaurants in Spain.
Now, Afram is at the helm of the open fire hearth that anchors Maydan's Middle Eastern menu and the globally nomadic street foods of Compass Rose. In 2020, Afram introduced Tigris to the menu of Compass Rose, named for the great river of the Mesopotamia as a celebration of the central role the kebab plays in the region and in tribute to the historical Spice and Silk Trade route that defined the cultural and culinary influence on the modern Middle Eastern people and world.