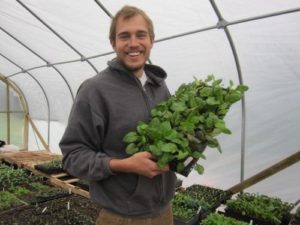 Corey T. McCleaf is a 5th generation farmer on McCleaf's Orchard.  His family started the farm, originally known as the Rice Farm, in 1888 in Biglerville, PA, although his family's heritage of farming in Adams County, PA dates back much further.
McCleaf's Orchard grows apples, peaches, plums, apricots, pears, cherries, pluots, kiwi berries, other unique fruit offerings as well as a wide variety of vegetables and herbs, on their 52-acre historic farm. They strongly believe in creating a biologically diverse farm, creating natural protection for their fruits and vegetables, placing an emphasis on constant innovation in growing, evidenced by our high tunnel and grow tunnel structures, use of natural and organic methods, inventions for planting and cultivation, and always evolving seed varieties.
The farm has strong committment to growing food as sustainably as possible, and practices Integrated Pest Management (IPM), minimizing the use of chemicals by reducing destructive insects in the orchards, and is proudly Good Agricultural Practices (GAP) certified.