products
Soaps & Skincare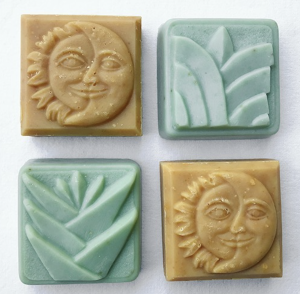 Amanda Frayer, or "Mother Mayapple" began making soap in 2017, because she wanted to know what she was putting on her skin. Amanda was tired of navigating confusing labels with chemical ingredients that she couldn't pronounce. She wanted to avoid palm oil, which is problematic for the environment. Amanda's vegetable garden slowly morphed and expanded into a giant herb garden.
Mayapple Soaps feature homegrown herbs, foraged plants, and organic ingredients. They are made in small batches in a solar-powered kitchen in Brookland, a historic neighborhood in Washington, DC. Many ingredients come directly from Amanda's herb garden. Others ingredients come from a small farm in Northeast DC, Three Part Harmony Farm. Goat milk soaps are made with local milk from 56 Hooves in Loudoun County, Virginia. Wild foraged plants are collected with care by Amanda, as she takes only what she needs and never takes from plants that are rare or endangered.
Mayapple Soaps are scented with high-quality essential oils, which are pure plant extracts. The essential oils Amanda uses are steam distilled from flowers, bark, stems, leaves, and roots. They are nourishing, balancing, and cleansing for the skin. Whether you are dealing with chapped skin, wrinkles, breakouts, redness, or eczema, essential oils may help. Aromatherapy also eases muscle pain, relieves stress, and calms nerves.