products
Produce
Eggs
Soaps & Skincare
Bread & Baked Goods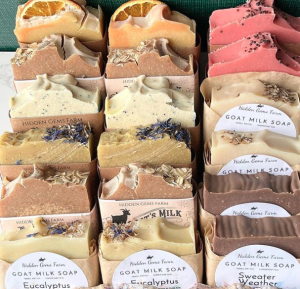 Hidden Gems Farm began over a shared passion for gardening + cooking + hearing the patriarch of the farm owner's family share his stories of how generations of their family grew their own food, herded their own cattle and how it brought them together as a family.
Due to our children's health concerns, Hidden Gems Farm started with just a vegetable garden and a few chicks to see if they could source some of their own food. They are thrilled to see what it's grown into! Now home to many goats, over 100 chickens that roam at their desire, rows + rows of blueberries, strawberries, our seasonal vegetable garden, and our beloved rose garden. 
Their mission is to provide ethically sourced + incredibly flavorful products with simple and clean ingredients for their community. They value quality over quantity, one-on-one conversations over transactions, respect over intolerance, and kindness above all.