products
Bread & Baked Goods
Desserts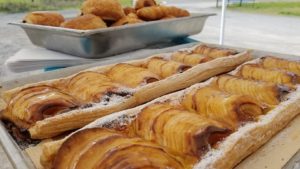 Arno's Pastry, founded by Arnaud Herodet, promises to take your taste buds on a culinary adventure. Only the freshest ingredients are used and everything is home-made to bring you the richest flavor.
For many years it has been a dream of Chef Arnaud to have his own business where he has more creative freedom to do what he believes looks best and tastes the best.
Having graduated from the Vichy Culinary School of France in 1984 and gained experience in a plethora of venues in Europe, French Polynesia and the United States, Chef Arnaud believes the time has come for his dreams to become a reality.
From the popular Chocolate Eclair to the lesser known Crepe Cake, Arnaud Herodet does it all.