Pop Up Food Hub
Dreaming of Spring Produce? Sign Up for the Spring Market Share!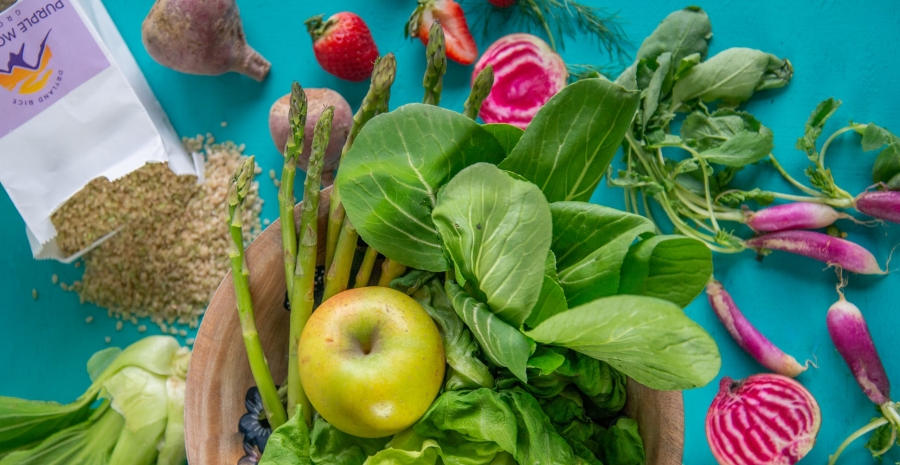 Have you ever shown up at your favorite market on the later side only to discover that many stands are pretty well picked over, and then headed to the supermarket to find the produce aisle wiped out? Avoid disappointment and simplify stocking your fridge and pantry with the 12-week FRESHFARM Spring Market Share and Grain Share, running from March 5th to May 21st.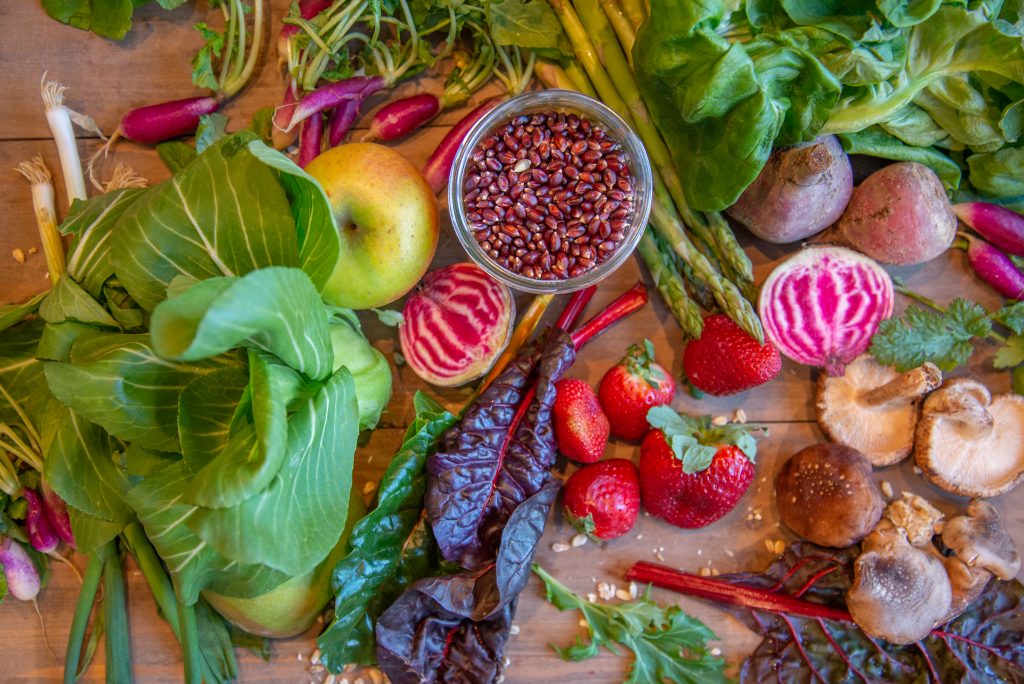 With the Spring Market Share, you'll receive 8-10 seasonal Mid-Atlantic grown fruits and vegetables each week. Thanks to our partnership with Common Grain Alliance, every month Spring Share members will also get a local grain or dry good included in their bag. Serious carb-lover? Sign up for the Grain Share and get a weekly curated selection of grains, pasta, grits, rice, and much more.
The Pop Up Food Hub Market Share: How It Works
FRESHFARM's Pop Up Food Hub (PUFH) harnesses the power of wholesale purchasing and distribution through farmers markets to connect underserved individuals and community-based organizations with local foods grown by regional farmers.
Here's how it works: the PUFH sources produce from various Mid-Atlantic farms in the FRESHFARM network, placing wholesale orders directly with farmers who are coming into the city several times a week to sell at farmers markets. These wholesale orders provide food for child care centers, community health clinics, senior outreach organizations, and the FRESHFARM Market Share. The CSA-style Market Share is available for pickup at select markets and home delivery and includes a lot of variety for great value.
Regional farmers reap the benefits of this system via additional guaranteed sales that they are able to deliver on their farmers market days, and Market Share customers benefit from a delicious and bountiful weekly supply of fresh groceries! Revenue generated by the Market Share also supports PUFH food access programs and partnerships, including our ability to offer significantly discounted Shares to members paying with SNAP/EBT.
The Spring Share & Grain Share
The FRESHFARM Market Share has always been a Summer and Fall program that features our region's most prolific growing period. However, Mid-Atlantic growers have plenty to offer in the spring months. This year we're introducing a Spring Market Share to highlight the season's bounty, support our farmers for a longer period, and extend our positive impact on food access in our community. After all, food insecurity is not a summer phenomenon!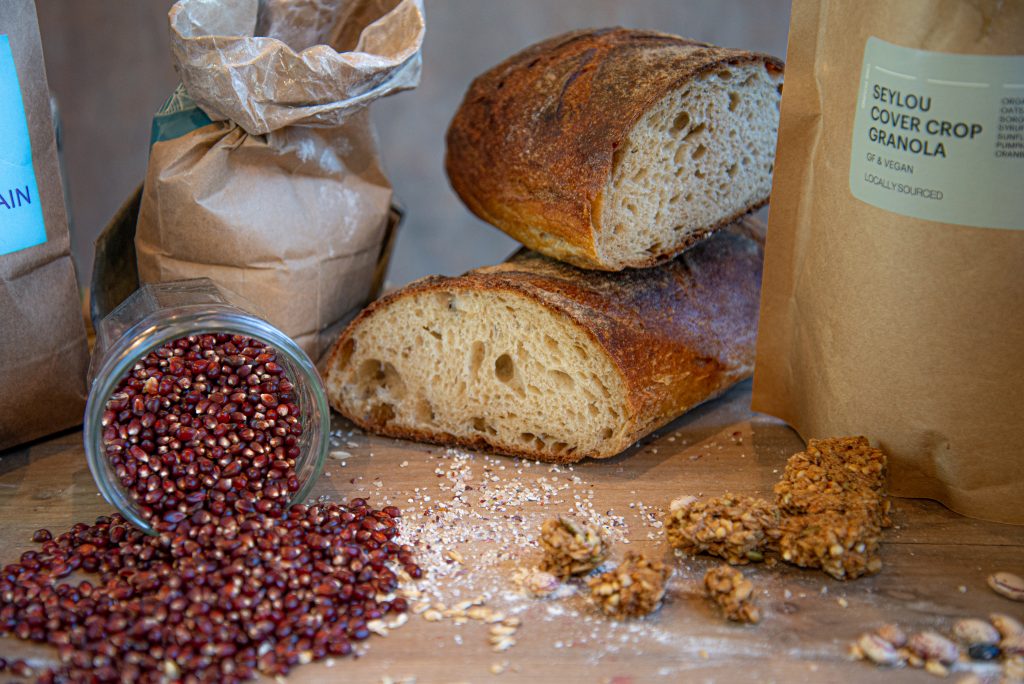 What's more, for the first time, FRESHFARM's Pop Up Food Hub is collaborating with Common Grain Alliance (CGA), a nonprofit network working to build a robust, sustainable, and equitable grain economy in the Mid-Atlantic, to connect Market Share members with local grains. Spring Market Share members will get one local grain or dry good in their Share per month. Shoppers also have the option of signing up for a Grain Share, a weekly curated selection of local grains and dry goods. "Common Grain Alliance is excited to be working with FRESHFARM to highlight the many regional grains and staple crops grown in the Mid-Atlantic and the farmers, millers, bakers, and grain artisans who make up our regional grainshed," notes CGA Executive Director Onawa Dufresne-Barger. "This Grain Share will showcase some of the wide variety of grain and staple products the Mid-Atlantic region has to offer, from pasta and bread to heirloom beans, oats, and rice."
The Deets: Share Contents, Pricing, and Logistics
While summer months in the Mid-Atlantic region are certainly the most varied for produce, some of our favorite fruits and veggies make their first — and only — appearance in the Spring. In the Spring Market Share you can expect to see apples, arugula, asparagus, bok choy, broccoli, chard, cilantro, dill, kale, lettuce, mushrooms, mustard greens, parsley, spring garlic and scapes, spring onions, snow and snap peas, strawberries, sunchokes, and much, much more.
In the Grain Share, members can expect treats such as wholegrain bread from Seylou, dried beans (not a grain, but an important crop for many regional growers who focus on grains!) from Next Step Produce, yellow cornmeal from Savage Acres Farms, and many other dried, milled, and prepared items.
The Spring Share costs $38/week and just $8/week for customers paying with SNAP/EBT. The Grain Share is $8/week and just $3 a week for shoppers paying with SNAP/EBT.
Shares can be picked up on Saturdays at the FRESHFARM Columbia Heights Market (Washington, DC) or the FRESHFARM Arlington Market (Arlington, VA). For an additional $6 fee, customers can also have their Share delivered weekly anywhere within the I-495 Beltway.
Social Impact
As always, Market Share customers will have the option to add "Social Impact" in $5 increments to their Share to support the Pop Up Food Hub's food access work, which includes offering a significant discount to Market Share members paying with SNAP/EBT and operating programs that directly serve price-sensitive DMV residents.
Sound good? Spots are limited, so act fast and sign up today!