Pop Up Food Hub
FRESHFARM & Lyft Partner To Deliver Fresh Food To Local Families During COVID-19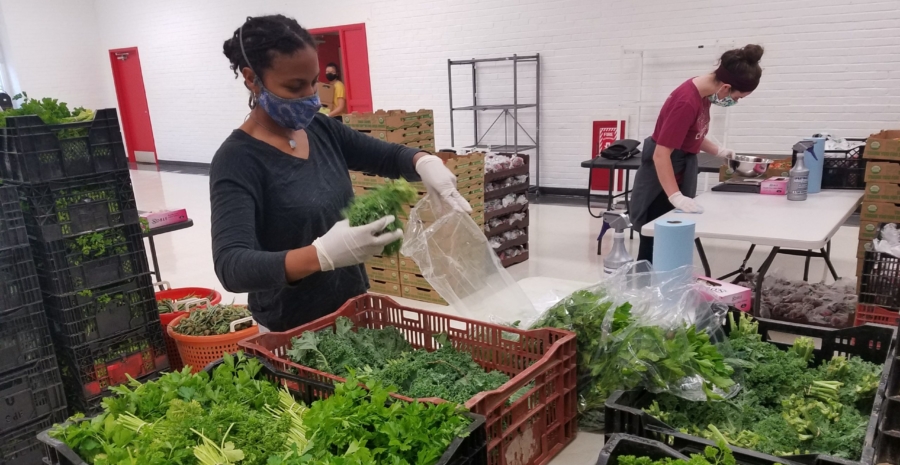 FRESHFARM's emergency food assistance work will continue throughout the summer and fall, with an exciting new collaboration. FRESHFARM is pleased to announce a new partnership with Lyft through their Essential Deliveries pilot, facilitating 6,400 home deliveries of fruits and vegetables over the next three months. 
Since the start of the COVID-19 pandemic, FRESHFARM has delivered weekly bags of local fruits and vegetables to dozens of community-based partners, reaching hundreds of underserved families at heightened risk of food insecurity. Each week, the Pop-Up Food Hub purchases large quantities of fresh vegetables and fruits from farmers attending FRESHFARM farmers markets. Our dedicated staff packs up produce orders for recipient families and community partners, including childcare facilities, senior care organizations, parent-teacher organizations, hospitals, and faith-based organizations. 
FRESHFARM has paid particular attention to serving some of the most vulnerable families with children in early childhood. Through our partnerships with United Planning Organization and Easter Seals, two leading childcare organizations in the District, FRESHFARM has offered contact-free direct home delivery to families who, in past seasons, would take home produce directly from their childcare organizations. "During the pandemic, home deliveries have been a critical component of the Pop-Up Food Hub's operations and have allowed us to continue serving hundreds of vulnerable families in DC with limited access to fresh produce," said Dalila Boclin, Director of Programs FRESHFARM.
With the generous support from the Bainum Family Foundation and Clark Foundation, FRESHFARM has made 8,200 deliveries to families with children in early childhood since the end of March, when the organization began emergency food deliveries. This represents 170,000 servings of produce and $216,000 in additional revenue to local farmers.  
Through Lyft's Essential Deliveries program, FRESHFARM is able to request Lyft drivers to help deliver essential items. The service also gives drivers an additional earning opportunity while helping to meet the local community's needs. "As we scale up and diversify our home delivery services, we are grateful to Lyft for their support of our food access programming and for enabling us to continue this vital work to distribute fresh, local food to communities with limited access," added Boclin. 
As communities respond to the pandemic, the need for items to be delivered to their doorstep is at an all-time high," said Annie Dragolich, Mid-Atlantic Regional Director at Lyft. "Whether it's fresh foods for underserved neighborhoods or rides to get people where they need to go, Lyft's community of drivers is ready to help meet the needs of our communities while earning additional income. We're proud to partner with FRESHFARM during this time."
Lyft's Essential Deliveries first launched in mid-April in select markets. The partnership with Lyft will help FRESHFARM continue to make household fruit and vegetable deliveries to families in DC and Northern Virginia, and support household delivery for Produce Plus Direct, a DC Health program. 
"As we continue through these unprecedented times, I am proud to see community partners stepping up to help meet the needs of families and residents," said Washington, DC Mayor Muriel Bowser. "This program will support the work we are doing at our meal sites and grocery distribution sites to ensure every DC resident in need has consistent access to fresh, healthy, and nutritious food."
In addition to the Essential Deliveries program, Lyft has also activated more than 500 community partnerships across the country through its LyftUp initiative to offer free rides to vulnerable communities, first-responders, healthcare workers and others in response to COVID-19.