Pop Up Food Hub
Farm To Childcare: Fresh Food In Early Childcare Communities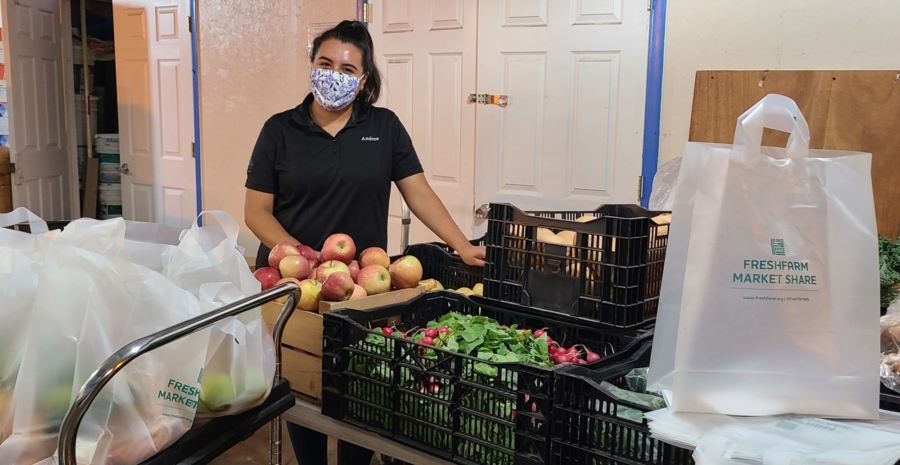 When it comes to food access and education, a one-size-fits-all approach doesn't always yield the best results. That's why FRESHFARM takes a holistic and collaborative approach to our food access and food education work, tailoring our programs to the varied and evolving needs of the communities we serve. This has been key to growing the success of our partnerships with Early Childhood Education centers (ECEs) — where many babies and toddlers spend their days and mealtimes while their parents work. Through conversations and feedback from ECE staff, we're working together to develop a program that empowers ECEs to provide local fresh food, build the capacity to prepare it, and integrate food education for the youngsters they care for.
FRESHFARM's Childcare Share, our wholesale food purchasing and delivery program for ECEs, provides ECEs with weekly deliveries of fresh, local produce that they prepare and serve to infants and toddlers as part of their daily meal service. But ECEs can range in size, capacity, and funding, which results in diverse opportunities and challenges to incorporate fresh food.
For larger organizations like CentroNía, which operates their own centers and provides meals for partner centers, the availability of kitchen facilities and supplies make processing and preparing fresh food more efficient. For smaller centers or those with fewer resources, food preparation can be challenging and time consuming, with limited equipment available — possibly only including a microwave with a steamer basket. FRESHFARM works closely with many ECEs throughout DC to incorporate more local fresh fruits and vegetables and nutrition education into ECE programming in a way that empowers providers and builds skills and capacity.
Partnership With Early Childhood Education Centers
FRESHFARM's early work in providing produce to ECEs began in response to Healthy Tots legislation in DC that mandated childcare centers procure a minimum of 10% of their produce locally. FRESHFARM's Childcare Share has grown from serving 22 sites in 2016 to 42 sites three years later. By 2019, FRESHFARM delivered over 200,000 servings of healthy foods to children at ECEs. The Childcare Share reduces barriers to wholesale purchasing of fresh food by removing minimums required by conventional wholesalers and providing delivery, which has been essential for busy childcare staff and centers located in areas of the city without close access to a variety of fresh produce. Plus, it's affordable: as a nonprofit middleman, we offer local produce and delivery at prices childcare providers can afford.
As these partnerships grew, FRESHFARM's Pop Up Food Hub team identified a need, based on feedback from our ECE partners, to build deeper relationships with ECE directors, staff, and families to support participation and utilization of local produce. Our partners shared that while families and childcare centers loved receiving produce at an affordable rate, the foods they received weren't always familiar, culturally appropriate, or easy to prepare. In response, FRESHFARM's FoodPrints team has developed programs to train and support parents and staff at ECEs. This holistic and collaborative approach will be instrumental in growing the Childcare Share. The feedback from our Childcare Share partners helped FRESHFARM realize that staff training and family engagement were keys to improving capacity to access and prepare fresh food, and to cultivate staff's, young children's, and families' familiarity with and acceptance of fresh, local food.
Empowerment Creates New Opportunities
"Over the past year, I have learned the majority of ECE communities in DC are doing a great job facilitating programming for their students and families with the resources that they have available," reflects Martine Hippolyte, a FoodPrints program manager and teacher who is leading FRESHFARM's childcare food education programs. "ECE center students are safe, happy, and regularly fed meals prepared with love and care that ECE parents are satisfied with. I believe that this type of established ECE programming can only be strengthened and enriched by increasing equitable access to products and services that FRESHFARM can provide through robust food access and food education programming."
At the core of FRESHFARM's intersection between food access and food education is empowerment. Our Community Food Educators program trains and employs parents in early childcare communities as peer food educators. Our new FoodPrints ECE staff training pilot, which we began in late June, engages more than 20 ECEs in topics from training and support to prepare and serve local foods, to cooking skills, to nutrition education, to how to incorporate food education in the ECE curriculum and strategies for talking to parents about healthy eating. Trainings include a combination of live virtual sessions, asynchronous self-guided work, and 'kitchen kits' that provide basic tools ECEs may need to prepare fresh food — all with the goal of helping to build staff capacity.
Andrea Lopez, Food & Wellness Program Officer at CentroNía, notes, "We value FRESHFARM's approach in listening to our perspectives and crafting training and support activities that reflect our needs and wishes." Our approach to food access and food education is not to add one more thing on ECEs' plate but instead to tie into what ECEs are already doing to train their staff, serve meals, and teach their kids. This collaborative approach is a key to integrating and sustaining this work in particular, and achieving FRESHFARM's larger goal of creating an equitable food future that works for everyone in our community.