Markets
Markets Are More Than Just Food: A Market Manager's Reflection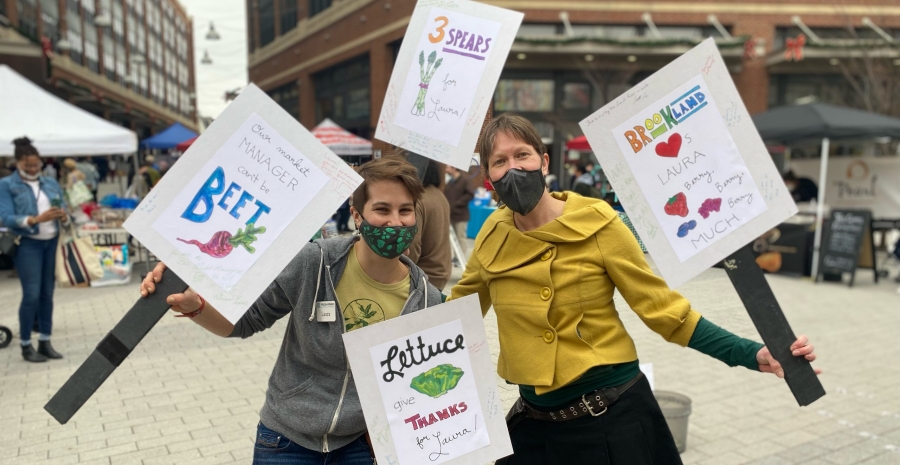 Farmers markets don't happen on their own! They require a lot of hard work, dedication, and early mornings from the market managers that show up every week to help create these beloved community spaces. Longtime FRESHFARM market manager Laura Popielski, who recently stepped down after five years managing the Monroe Street market, shares her memories of what she learned at market. 
By Laura Popielski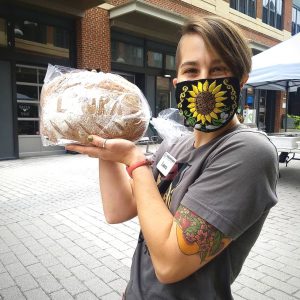 I have been a market manager for the last eight years (three in Potsdam, NY and now five here in DC). You might be wondering why I am crazy. You might also wonder what I've learned from "hosting a block party for a neighborhood every week for nine months in a row for eight years."
I have learned how to be a kinder human.
If you know me, you know I live and breathe the market. Friends would often ask me "how's the market?" instead of "how are you?" However, just being obsessed with the local food scene doesn't make you a good manager. You've got to mix in compassion and positive energy. This works in many situations. No one likes a "know-it-all," but everyone appreciates a friendly fountain of helpful knowledge.
It was a hard realization that not everyone is as fanatical about local food as I am. A shopper might actually be coming to a farmers market for the first (*GASP!*) time! They might not know the hours, rules, why there are no bananas, or the changes in seasonal produce. This is where compassion comes in.
I was thankful for every shopper. Honestly, what if we treated everyone like we were happy to see them? This person chose to come to a place that is only open at a certain time on a certain day. They could have gone to Safeway at 9pm on Tuesday, but they made the effort to come to market instead. My goal was to ensure their visit was a good use of their time.
I also strived to never let a shopper leave market with a query, or feel sad or angry. I explained seasonality but in a positive light: "Yes, asparagus season ends in early summer so we have to enjoy it to the fullest! Plus, there are other tasty things to follow!" Empathizing also helped: "I'm bummed that the empanada stand is absent, too. I was planning on getting one for lunch! I guess I'll eat a tomato!"
Being cheerful for seven hours straight can be exhausting for even the most extroverted soul, but a very hot (or cold) day at market is even harder when you're lonely. So I made friends with everyone. I learned names and pet the dogs. I complimented people at random: "What a cool bag!" "Great choice of bread today; I love challah!" I booked weekly musical acts and danced like a fool, singing along. The market manager is not the CEO or the lifeguard. Having fun is allowed.
Managing the market has been my side hustle but also a source for lasting friendships, and opportunities to be kind, learn from others, hear amazing music, experience all seasons to the extreme, and eat the best food in the DMV. I'll be back to shop, talk to all my friends, pet all the dogs, and eat all the things.