Farmers & Producers
Winter Orchards at Two Story Chimney Ciderworks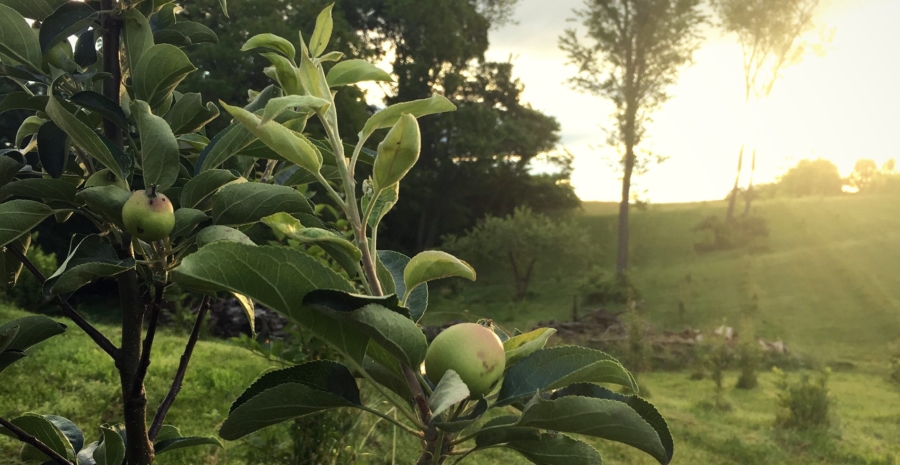 For most farms, the work doesn't stop in the winter, even if crop production slows down. For orchards, winter is prime time to tend to trees to ensure a productive harvest by the end of summer. Tommy Evans of Two Story Chimney Ciderworks, a cidery in Gaithersburg, Maryland, shares his experience of managing a young orchard during the winter.
Tommy has overseen the orchard at Two Story Chimney Ciderworks since 2016 and started making and selling hard cider in 2019. The orchard has both heritage apple trees that are over 100 years old, and modern apple trees that Tommy planted. For less mature trees like these, the maintenance is not nearly as strenuous as it is for older orchards, but still requires daily pruning to remove anything unhealthy, sick or dead, making sure trees are taking on the correct shape, and promoting new bud growth for next year's apples. Serving as an apt life metaphor, you don't want your tree using all of its energy to create only leaves instead of apples — and winter pruning helps ensure a fruitful harvest!
Currently, the trees stand at 2 feet to 5 feet tall, spaced 8 to 10 feet apart, and naturally are barren this time of year. Tommy uses this dormant time to graft branches of his heritage trees onto the rootstock of the newer trees, producing heritage apple varieties on younger root stock. When planting apples from seed, he explains, "each apple has genetically different seeds" that are completely different from the genetics of the parent tree. To grow specific varieties of apples, growers must graft a branch from the desired tree onto new rootstock, which is achieved by making a cut in the rootstock and attaching the grafted branch, allowing the two plants to fuse together. It is the rootstock that determines the size and health of the tree, and the grafted branch, or scion, that determines the variety of apple the tree will eventually produce. Tommy grafts his trees in the winter, so they will produce the desired fruit by harvest time.
Barring any unfortunate late spring frosts, which can pose a huge threat to apples (an issue that Two Story experienced in 2020), Tommy expects to see blossoms in April and for apples to appear shortly after, harvesting from mid-August into early November. Many bigger orchards are able to mitigate the effects of a cold spring with industrial heaters in the orchard, but those represent a hefty investment for a smaller operation. Come spring however, Two Story is looking towards expansion, closing on a new property this winter, and planning a much larger farm, complete with a tasting room, in the next few years. "Normally when you are preparing orchards," he explains, "you might grow lettuces without harvesting, and then just let them return to soil for nourishment." However, the new land, which was formerly horse fields, has strong, healthy soil that Tommy doesn't anticipate needing too much coaxing. So for now, Tommy will be working on fermenting the end of last year's apple harvest, which he usually finishes up by the end of January or beginning of February.
You can find Tommy's craft cider varieties at the Downtown Silver Spring market, including the Semi-Sweet, a French style with controlled fermentation and lots of apple flavor; the fully fermented Dry cider; the Hopped cider, with strong citrus/grapefruit notes; and the Special Release, aged in oak red wine barrels for a year.