Farmers & Producers
Winter at Shenandoah Seasonal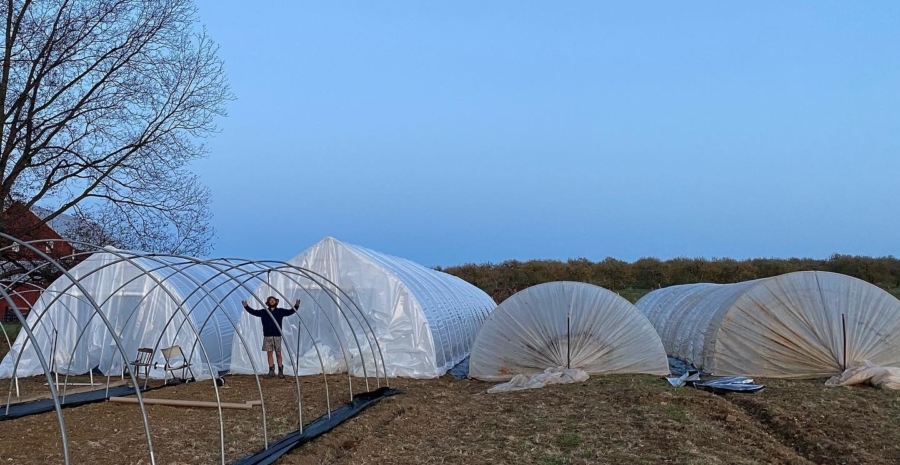 We don't shy away from chilly weather at FRESHFARM! With eight winter markets, our brave and bundled up market managers, farmers, and producers help us supply our community with fresh, local produce throughout the year. But what's going on behind the scenes to ready farms for the cold winter months, and to prepare for spring? To share a bit of winter farming magic, we spoke with Shenandoah Seasonal.
Ali and Dan Haney of Shenandoah Seasonal grow organic vegetables using sustainable practices in Virginia. Right now, they're offering produce like turnips, lettuces, zesty salad mix, arugula, Asian greens (including some rarer items like Tokyo Bekana), and a huge variety of radishes. After nine seasons of leasing farmland, the couple — along with baby Leena — have purchased a new farm, and now the task of winterizing begins!
With an existing six tunnels (unheated hoop houses) planned earlier this fall at their leased property, Shenandoah Seasonal is also busy planting seven tunnels on their new property, where they were able to keep their crew on for the first winter this year. The cold season brings challenges including smaller harvest windows and shorter days, meaning farmers have to pack a lot of labor into a shorter amount of time. Then there's the rush to prep ground before the soil begins to freeze. Ali and Dan make sure to stagger planting for continuous supply, as produce takes longer to grow in winter. During warmer months with more sunlight, salad greens take 30 days to grow; now they require 60 days to reach maturation.
Snow is another challenge. In Clearbrook, Virginia, Ali and Dan recently got 16 inches, while many of us in DC hardly saw a flurry! Farmers with tunnels need to be careful to remove snow from tunnels without letting it pile up on the sides, so they're still accessible. Similarly, it's vital to stay on top of venting tunnels. Farmers need to be diligent about covering and uncovering tunnel sides to maintain good airflow for crops. On a sunny 40 degree day, it can easily reach 100 degrees inside a tunnel! Conversely, once the temperatures reach 25 or below, farmers bring in an extra row cover for double insulation.
In order to prepare for spring on new land, Ali and Dan will be hard at work putting in irrigation and electric lines to the fields, to provide heat to their nursery. Seeding for items like lettuces, salad greens, Asian greens, and kale will begin in the next couple of weeks, with another round of tomatoes and peppers in February. Next, they'll be developing additional infrastructure, like setting up cold storage and pack stations. In order to ensure healthy winter soil, Shenandoah Seasonal performs frequent sampling, and uses a nice balance of fertilizer, including alfalfa meal mix. For the controlled environment of their tunnels, crop rotation is very important. And out on their fields, there's no need for winter cover crops, given their continual growing cycle.
Working in the cold winter months does come with plenty of benefits, says Ali. For one, winter produce is incredibly flavorful, she explains, as plant sugars are heightened after a frost! Planting in the winter also ensures they'll have lots of produce during the "shoulder seasons" of late fall and early spring. You can find Shenandoah Seasonal at our Arlington and Dupont markets during winter months, where Ali is happy to "get to have different conversations with people," she tells us. "Markets aren't generally as busy, so at least before COVID, you get to know customers a little better. It's special folks that come out 52 weeks of the year." When it comes to spring, Ali and Dan are most looking forward to putting down roots at their new farm. "This is a dream come true for us…building healthy soil for our daughter to be able to use too," Ali says.