Farmers & Producers
Spring Gardening with Four Seasons Nursery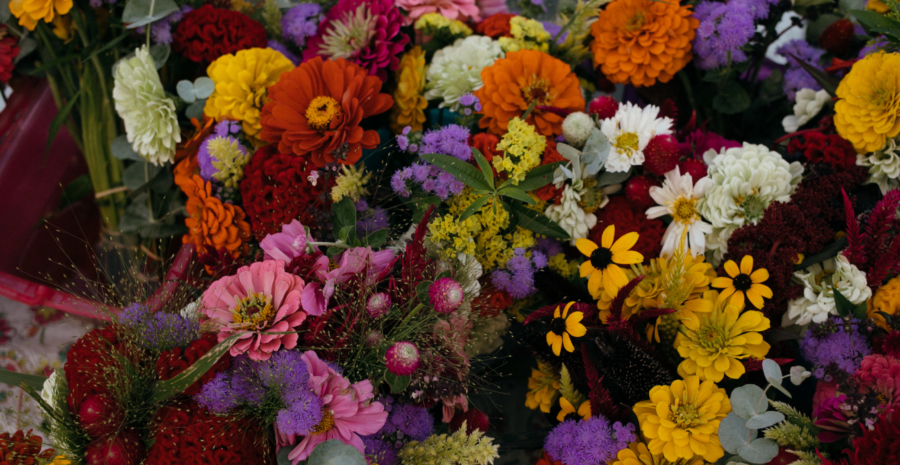 When we spoke recently with George Miller of Four Seasons Nursery, he was out in the greenhouse. "Today is one of those days when you don't know whether to water or not… when it's cloudy like this." Four Seasons Nursery is located on five acres of land near Charles Town, West Virginia. Owned and operated by George Miller, along with his wife Jennifer since 1998, the nursery grows a large variety of herbs, perennials, annuals, and houseplants, in addition to offering cut flower bouquets and the most stunning dried floral wreaths when seasonally available.
George gave us the scoop on not only what he would be offering at his weekend markets at Downtown Silver Spring and Dupont, where he returned the first weekend of April, but also gave us some great home gardening tips to share with our readers!
For our gardening enthusiasts who are planting outdoors, he recommends waiting until the last frost day before planting herbs like lavender, mint, thyme, rosemary, cilantro, dill, and parsley.
While these heartier varieties can survive 35 degrees, home gardeners will want to bring these herbs inside if possible, or drape a cloth sheet to protect in any temperatures below that if planted in the ground.
Basil, Four Season's best seller, is best potted on a bright sunny window until closer to May when we have warmer nights, before planting outdoors. Garden greens, on the other hand, like lettuce starts, kale, swiss chard, and mustard greens are all ready for planting! Planting closer to your home is also a big advantage for protecting for winter or unexpected cold snaps.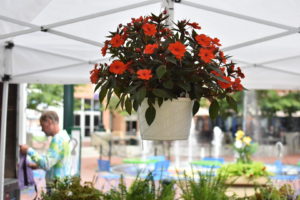 Now, for those spring flowers! Pansies, of course, survive cold well, so those are ready for planting. Annuals, like marigolds, zinnias, geraniums, New Guinean patience, and other "patio plants" are also ready to plant. By May, around Mother's Day (which falls on the 9th this year), it should be time to plant anything, George tells us. May 15th is likely to be the last frost day for the nursery and is slated to be right around now for the DC area! Four Seasons will have perennials for your "butterfly garden," like shasta daisies, coreopsis, butterfly bush, and buddleia. George also has starters for your summer gardens, including a variety of peppers. And for anyone who might not have outdoor space, Four Seasons also offers house plants, like ferns and succulents.
What have the Millers been doing to prepare for spring on the farm? "We just had a big cleanup for our gardens. I'll be cultivating soon," says George, adding, "I'll be planting all my sunflowers, and flowers for cut and dried flowers. Those will be planted after the frost date in mid-May. Lots on the heat table germinating now, on seedling trays, set for 70 – 75 degrees for consistent germinating, to get a little jump start. "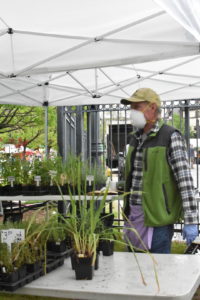 George shared his thoughts about farming and being at market during the pandemic. "At this time last year, when it shut down, I was looking at my greenhouse and freaking out…trying to figure out what to do with all my stuff if they didn't have a market." Closer to the farm, markets operated as a drive through only, while the Shepherdstown market was pre-order only. "In the end," George tells us, "It's a lot of work to get everything online."
George is hopeful for inoculation and for people to still take precautions. "Jennifer is a public school teacher and has already been vaccinated. Charles Town, WV is doing a pretty good job," he adds. George had just received his first vaccine dose, he reported, at the time of this interview. We were happy to hear that George "did better last spring and summer at Silver Spring" than he ever has, even while missing a few markets. "Everyone wants to garden now!" He anticipates doing well again this season.
As we all eagerly await a bit of return to normalcy, George is "looking forward to seeing everybody. I miss the community, both Silver Spring and Dupont." Any other questions about starting your garden at home? He's always available for any questions at markets! Strike up a conversation with George of Four Seasons every Saturday at Downtown Silver Spring and each Sunday at Dupont Circle.