Farmers & Producers
Ramadan Nights with FRESHFARM Bites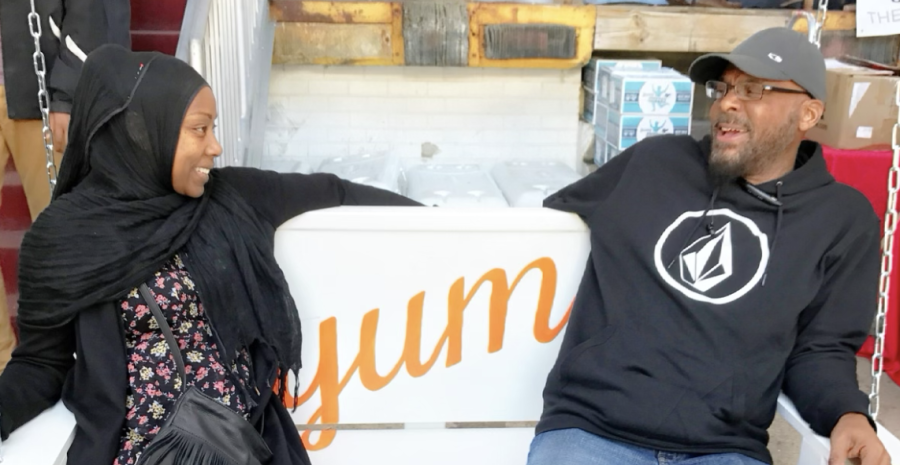 During Ramadan, observed by Muslims worldwide as a month of fasting, prayer, reflection, and community, farmers markets are a source of local food to break your fast with, as well as a hub for community.
JC Clark of Capitol Kettle Corn and his wife Edwina Arenas of LemonadeLove are practicing Muslims. They spend their daylight hours working at the markets to feed the community and bring home a meal of locally sourced products to their family. JC details below his relationship with FRESHFARM during Ramadan.
It's 4:30 on a chilly April morning. I drowsily watch as my wife struggles to get out of the warm comfort of our bed to prepare food for the family's pre-dawn meal (Suhoor in Arabic). She will do this for 30 days to begin our intentional fast for Ramadan. I lay in bed thanking Allah (the universal word for God in Arabic for Muslims and even some Christians living in the Middle East) for allowing me to live another day to serve Him in good health.
I smell fried apples and cheddar biscuits; I hear the juicer no doubt making fresh carrot, apple, and kale juice. And when the buttery aroma of sautéed mushrooms and spinach for my eggs hits my sense of smell, I hastily jump out of bed to make ablution (the act of spiritual cleansing before prayer). I'm anticipating the goodness of being sustained by the apples, kale, and carrots, from Spring Valley Farm and Orchard, Chicano Sol, and Dodo Farms (who is also a fasting Muslim vendor). Cheddar biscuits from Atwater's, mushrooms from King Mushrooms, and eggs from Dodo Farms.
As the proprietors of Capitol Kettle Corn and LemonadeLove, our family awakens before the sunrises to start our day. After we pray, my wife Edwina and I tend to our respective businesses at the FRESHFARM Markets. We stave off hunger knowing at the end of the workday; there will be plenty of vendors to support by purchasing their local produce. We buy extra to take and share to help feed needy families in our community.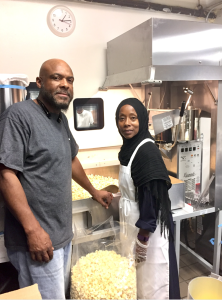 Most of the fruits and vegetables that end up on our table during Ramadan come directly from the FRESHFARM markets. We nourish our bodies with healthy fresh options to sustain us before and after we fast the long daylight hours this month. We even enjoy the hand-crafted bakery items and sundries FRESHFARM vendors offer to ease the burden of cooking our sunset meal (Iftaar in Arabic) after breaking our day's fast. Meat pies by Welle Made Co. and vegan muffins by Cropeats are prepared delights that have traveled the distance and awaited the setting of the sun to be ardently consumed by our family of fasting Muslims most graciously.
As Ramadan is the month the Holy Quran was revealed to mankind, it is incumbent upon us to do good deeds as the reward will be tenfold. As we fast, we understand how someone less fortunate feels who doesn't have any (good) food to eat.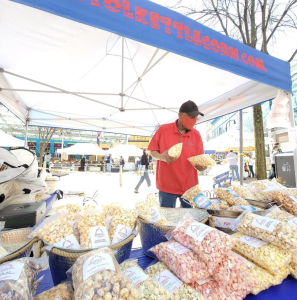 Ramadan comes at a different time each year, depending upon the lunar calendar. We continue to work as vendors oftentimes in sweltering heat in the midst of a 400-degree propane popcorn kettle. We don't stop working or tending to family or school, so it is extremely important for us to eat a healthy and wholesome pre-dawn meal to carry us throughout our day. I watch as my wife serves her FRESHFARM-sourced plant-based lemonades on hot days with a mouthwatering smile. She's thirsty but happy knowing her fast is pleasing to her Lord. And she's elated seeing all the customers lined up to support her black- and woman-owned business.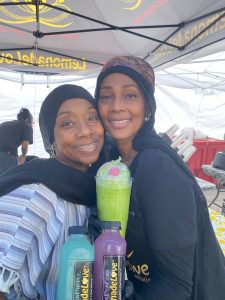 Many people ask us how we can fast for 30 days during daylight hours and continue to work with smiles on our faces, surrounded by all the lush fruits, vegetables, and prepared foods at the market. And how we can stand the heat covered in hijab (modest Islamic head covering) or abstain from physical pleasures, unnecessary talk, or arguments even when we've been wronged. It's very easy when you know that Muslims believe it's the only thing God asks us to do for Him that will grant you paradise. All other acts of worship we do are for us to strengthen our ties to Him and our faith.
We have amassed a huge sense of community with the vendors at FRESHFARM and are oftentimes showered with gifts from their bounty to break our fasts with. Stuck in traffic on the way home after breaking down at the market, a simple succulent peach or earthy cucumber was sometimes the only thing we had to break our fasts with. They were unknowingly strengthening our bond over food. And after a long hot day of fasting, the enhanced taste and the feel of your veins being nourished was heavenly, as our bodies are our temples, and only the best offerings should be put in them.
Knowing that what you're putting in your body after 13 hours of abstaining from food or drink was hand-crafted and locally sourced makes shopping at FRESHFARM a good bet for Muslims and non-Muslims alike during this blessed month of Ramadan.
We will then perform an obligatory act of charity, where money is paid to the poor and the needy (Zakat-ul-Fitr) before performing the 'Eid prayer.
Lastly, we will fill our baskets with goodness to end our month-long fast with a cornucopia of sorts. We give thanks for the most essential of blessings, food, but especially good food, to nourish our minds, bodies, and souls. We will share this goodness with friends and family at our celebratory Eid Al Fitr feast at the closing of this the Holy Month of Ramadan.
— LemonadeLove & Capitol Kettle Corn