Farmers & Producers
Nurturing Bodies and the Earth: Growing Grains at Purple Mountain Grown
We know that beans and whole grains are good for you, but did you know they are also good for the planet? We caught up with Nazirahk Amen, founder and head farmer of Maryland grain farm Purple Mountain Grown (Montgomery County, MD) to learn more.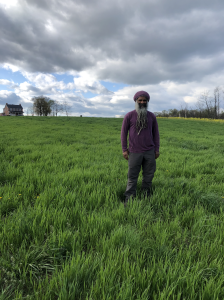 Nazirahk returned to farming as a way to nurture his community through the healing power of food.
Together with his family, Nazirahk grows rice, oats, wheat, einkorn, rye, barley, sorghum, dent corn, popcorn, buckwheat, and dried beans at Purple Mountain Grown.
We caught up with Nazirahk and Nazirahk's farming partner Amanda, who explain that at Purple Mountain Grown, they live and farm by Hippocrates' saying: "Let food be thy medicine and medicine be thy food."
What's So Great About Locally Grown Grains?
According to Nazirahk and Amanda, "one of the main problems with our current farming systems is that conventional farming models contribute to poor soil health and consequently poor nutrition from the foods produced in that soil." They go on to ask: "Do we pay the farmer for a better product or the doctor for the myriad of ailments that result from an excess of processed foods?" Purple Mountain Grown, and other local smaller-scale farmers, practice regenerative farming. Among other things, regenerative farming aims to restore soil health by creating conditions that maximize soil biology and thereby increasing nutrient availability to create healthy plants and people. Grains and beans grown with regenerative farming practices contribute carbon and fix nitrogen (respectively) in the soil, which serves as a home for beneficial microbes, bringing life and nutrients back to the soil. Nazirahk and Amanda tell us, "eating locally grown, nutrient-dense grains grown this way helps create healthy people who might literally be a little more in sync with their surroundings."
Small-scale grain production is a challenging venture. Amanda explains that Purple Mountain Grown collaborates with other innovative and creative small-scale grain farmers to make their offerings possible. These other small-scale grain farmers each have—and share with each other—different specialized equipment, such as smaller combines, harvesting equipment, drying equipment, grain cleaning and processing equipment, and unique storage and milling facilities. When you purchase grains from Purple Mountain Grown, you support a strong and sustainable Mid-Atlantic grainshed.
Eating Purple Mountain Grains
All meals for the family at Purple Mountain Grown revolve around grains and beans. "This winter, we've really enjoyed a hearty chili made with the Arikara beans served with cornbread made with our Rebellion corn flour," says Amanda. At Purple Mountain Grown, black beans and oats are staples. "There's so many fabulous ways to enjoy black beans – burritos, enchiladas, salads, soups, nachos, and more. As for oats, we eat them in so many different ways! From gingerbread oatmeal at the start of the day, to granola, oat milk, oatmeal cookies, and using oat groats in soups instead of barley."
Purple Mountain Grown Products That You'll Find at Market
The Tiara – A black rice variety that makes an amazing winter salad along with roasted winter squash and mushrooms.
The Koshihikari – A premium Japanese sushi rice variety that is fantastic for buddha bowls.
Buckwheat – A Purple Mountain Grown household favorite to use as a chickpea replacement in falafel. "Getting to know the different grains allows you to use them in different applications where their flavor can really shine," says Amanda.
Einkorn – A favorite flour among the family for its complex depth of flavor and tenderness compared to other wheat varieties. Used as a go-to for pizza crusts, cakes, and cookies.
The Expedition – Hard wheat that is used for a satisfying crusty bread.
Popping Corn – A popular snack at Purple Mountain Grown is popcorn with chili powder, garlic powder, chipotle, spirulina, and nutritional yeast.
Purple Mountain Grown can be found at the Dupont Circle market! Be sure to swing by to say hi, ask questions, and try their delicious products.