Farmers & Producers
Local Oats from Purple Mountain Grown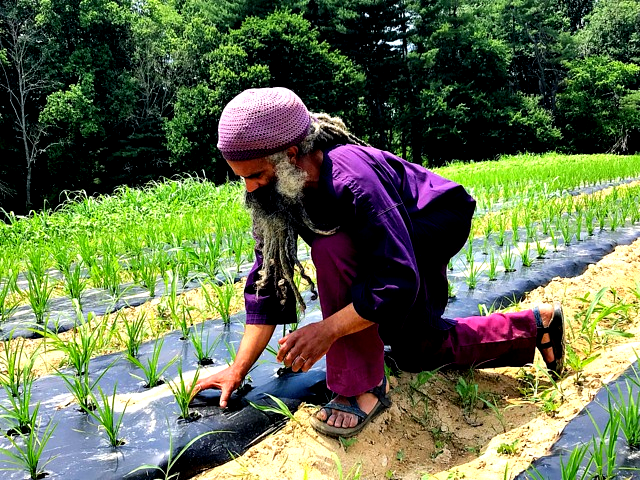 For this Fresh Take post, we're highlighting an oft overlooked product — oats! Farmers market shoppers know they'll find the freshest produce and delicious seasonal goods week to week at market, but did you know you can find local grains like oats when you shop our stalls?
Amanda Heinbaugh of Purple Mountain Grown, a sustainable farm growing rice, wheat, oats, beans and buckwheat in Takoma Park, Maryland, tells us, "Oats may not be the most glamorous of foods, but there are a lot of reasons why they are becoming so popular again… Oats are an easy first step into incorporating whole grains into your diet. They're easy to prepare and are a simple way to make a noticeable difference in both your health and the health of the environment."
Amanda explains, "The first time we had oats that we grew, we discovered that they were so much more flavorful than any oatmeal we remembered having! There was no turning back from there. Most large scale commercially grown oats are varieties that have a hull. Before they are rolled, they have to steam them. We grow a hulless variety so they are raw when you get them, providing a much deeper, complex flavor profile and a creamier texture. Outside of using them for oatmeal, we enjoy them for overnight oats, baked oatmeal, oat milk, granola, ground into flour for baking, and more. We also fell in love with eating oat groats, the whole grain of the oat, as a replacement for barley in soups, in stuffing with winter squash, and to use in veggie burgers for adding a nice chewy texture and flavor.
"Aside from tasting great, oats offer a number of important health benefits. They help reduce cholesterol, maintain healthy blood sugar levels, reduce blood pressure, are a great source of fiber to help strengthen the digestive system and keep you feeling full and satisfied longer."
Local grains, like oats, are a crucial and still uncommon player in our local food system. As Amanda puts it, "Oats play a very important environmental role as part of a sustainable crop rotation system. Oats are a low-input crop, requiring very little water and less nitrogen and other nutrients than many other common crops. They are great for soil erosion control and require little tillage."
How to cook with oats and oat groats? Try a bowl of classic, warming oatmeal (especially now that many of us aren't rushing out the door for our morning commute these days). Slowcook overnight, incorporate the abundance of winter apples, or for a savory rendition, add a farm fresh poached egg and a smattering of local pickles! Use oat groats to bump up your next soup, like this hearty mushroom and oat groat stew.
Make your next batch of chocolate chip oatmeal nut cookies even better with local oats! Bake oats ahead of time to create a healthful, handheld meal. Savory baked oat bars are a great way to incorporate fresh produce, or throw in those odds and ends at the back of your fridge!