Farmers & Producers
First Annual Deep Roots Farm Feast
An autumnal breeze was in the air on a recent Saturday evening as families who participate in the Anne Beers Farmshare program made their way to Deep Roots Farm in Brandywine, Maryland for the First Annual Deep Roots Farm Feast, a true "farm to table" experience. 
Since 2017, a weekly share of organic produce from Deep Roots Farm has been offered at Anne Beers Elementary School, thanks to funding from sweetgreen and the DC Department of Small Labor and Business Development. Once a week, spring through fall, families and community members can stop by after school to purchase produce, participate in cooking demonstrations run by our FoodPrints Lead Educator, Serenity Rain, and talk with friends and neighbors about recipes and cooking tips for using the produce that changes with the seasons.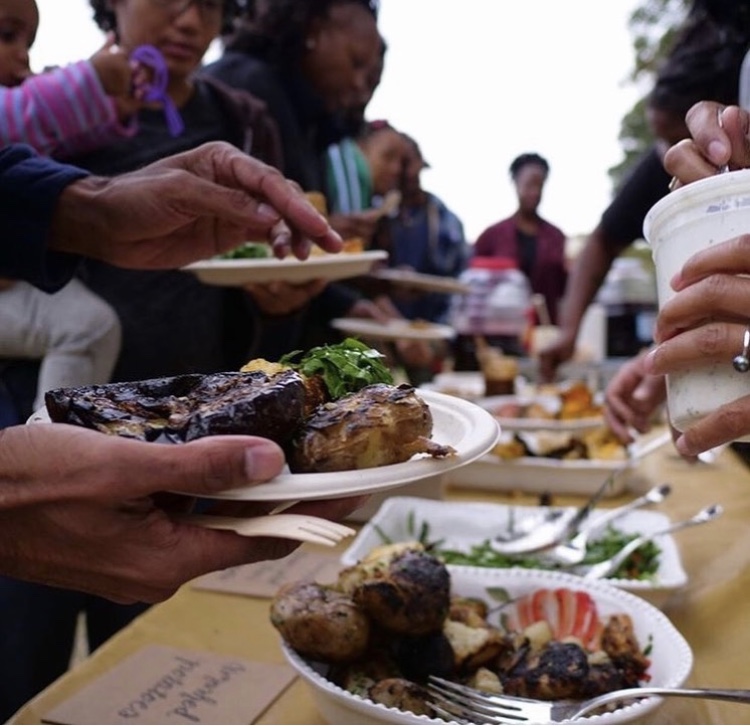 As a demonstration of appreciation for these farmshare participants, Livingstone decided to invite the families that participate in the farmshare program to her farm for the First Annual Deep Roots Farm Feast. Livingstone not only wanted to show her gratitude to the families, but also give them a chance to see the farm, learn about her farming practices, understand what farmers do each day, and to appreciate the level of effort it takes to grow food. 
Rain and Livingstone worked together to plan the event, organize the logistics, and invite families and community members to the farm. Rain said for the families and community members, the feast was a special opportunity to see where their produce and eggs come from each week, and meet the people who grow and harvest the food. The feast was an amazing opportunity to experience "farm to table" in action. Margi Fineran, SWS Elementary FoodPrints Lead Educator, was at the event and commented that it was amazing to see the enormous amount of food Gale grows on just a 2-acre farm. "Small farmers really can make significant contributions to feeding their communities," said Fineran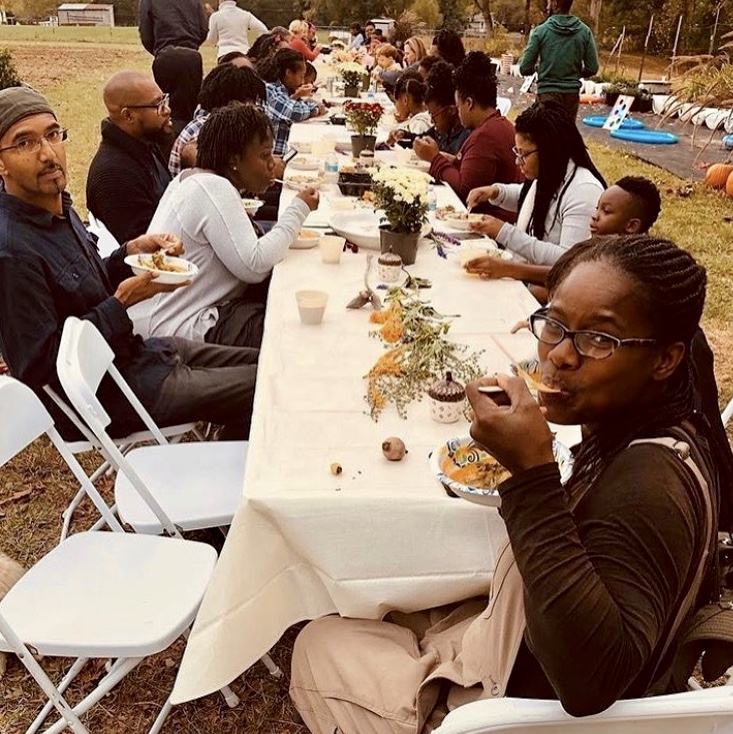 Both Rain and Livingstone expressed that the feast felt like a "large family sitting down for a meal." Farmers, chefs, FoodPrints staff, community members, and kids gathered around for a meal filled with vegetables grown on the farm. General Manager Olivier Caillabet and his team of chefs from Toki Underground on H Street NE prepared the meal, cooking a variety of dishes from butternut squash soup to potatoes and beets roasted over an open fire, and a fresh collard green salad.
The first annual feast was a huge success. Livingstone said she was "happy to spend time" with everyone at the farm on a beautiful evening enjoying a meal together. At the end of the day, Livingstone believes her purpose is to "feed her community," and the farm feast was a special way to do just that.