Farmers & Producers
Farmer Feature: Little Wild Things Farm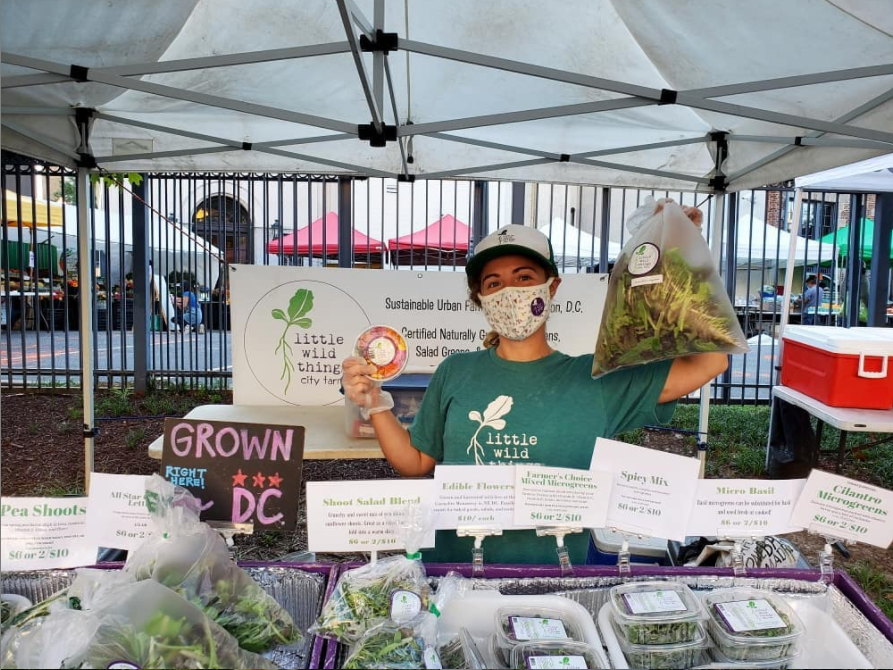 FRESHFARM spoke with Little Wild Things Farm, a Certified Naturally Grown farm in Northeast Washington, DC about pivoting and resilience in the COVID-19 era. Founded in 2015 by owner Mary Ackley, Little Wild Things grows edible flowers and microgreens right here in the District. Like so many others, this urban farm felt the hit of the pandemic. Read their thoughts below on how they have rolled with the punches.
1. What is your vision of a thriving local food system? How do you see your role with FRESHFARM as being part of the Mid-Atlantic food system?
LWT: At Little Wild Things, it is our mission to demonstrate that urban farms can operate not only sustainably but prosperously in places like DC. We envision a future where farming is a desirable career for DC's best and brightest. A thriving local food system is premised on sustainable practices, a passionate workforce that is paid fairly for their work, and a community that supports and celebrates locally produced food! We think that FRESHFARM is an important venue for showcasing local food producers and letting them engage with the community about these and other issues in our current food system.
2. How has your business been resilient in this time, and what role has FRESHFARM played in supporting that?
LWT: When the COVID-19 pandemic hit the DC-area, we lost over 80% of our business, which was primarily wholesale, in less than 48 hours. Restaurants were closing and catering events were canceled. Rather than succumbing to the stress of the unknown and closing our doors, we quickly pivoted our business model in hopes of saving the farm. We began with a contactless pickup at the farm and a subscription-based delivery service. Successfully pivoting to a retail subscription-model salad program not only saved our farm, but gave us the opportunity to strengthen our retail offerings and scale up our farming operations to provide nutritious salad greens to our community. With our retail operations at full speed, we returns to FRESHFARM's Dupont Market. We first operated at a limited pre-order capacity and then as a fully stocked market tent. Returning to Dupont market has been a great opportunity to reconnect with our pre-pandemic customers and let the market community know that the farm is open and thriving. The support and encouragement of the other vendors has been invaluable during these uncertain times and we really appreciate how everyone is working together to create a safe environment.
3. What do you see as the challenges and opportunities of 2021?
LWT: Obviously, there is a lot of uncertainty in the coming year. It's important for us to meet our customers where they are and to make sure they have reliable and safe access to high-quality, fresh greens. While that mission posed a huge challenge to us this past spring, it also became an even bigger opportunity to do something bold and new with our business (a subscription-based model with home delivery options). We know that our customers' needs will continue to change in 2021 and we are committed to staying agile, creative, and responsive.