Farmers & Producers
Earth Day 2020 – A conversation with Hana Newcomb of Potomac Vegetable Farms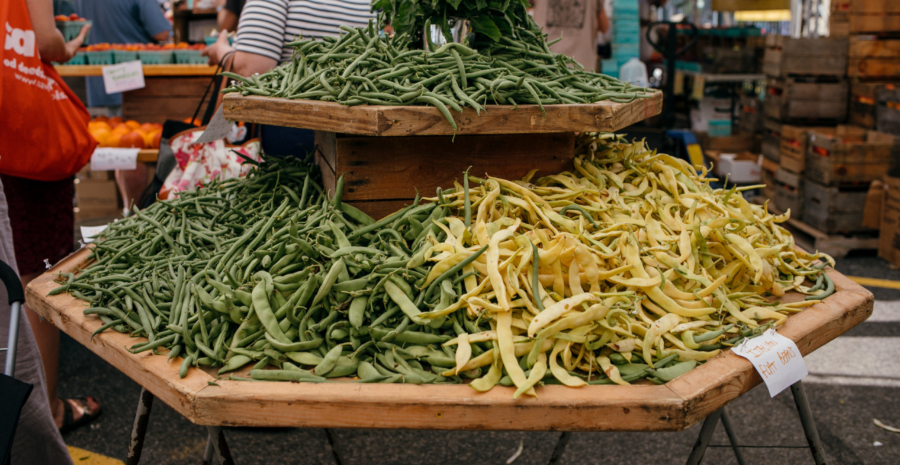 "I remember the first one", says Hana Newcomb of Potomac Vegetable Farms, of the 50th Anniversary of Earth Day. Hana took the time to speak with me about her "ecoganic farm", and shopping local during COVID-19. "It was an era so different from now – we have come so far and have realized we can live a great life eating local food. 50 years ago, that wasn't really known yet."  
This yearly homage to Mother Nature and annual call to action falls during especially challenging times in 2020, while we are confined to our homes for all but the essentials. The planet, however, is notably experiencing a marked reprieve from pollution as global economies grind to a halt, but local farming is churning on, with the sustainably minded farms within the FRESHFARM network still working hard to feed the region.
Potomac Vegetable Farms is "really two farms" – the first in Fairfax County, "deep in the suburbs, on 20 acres, including woods", Hana continues. In the Loudoun Country town of Purcellville is their second farm, which sits on a large piece of property. "There are many other farming people contiguous with the farm", so it doesn't "feel nearly as suburban to us", Hana explains. 
Before the inaugural Earth Day on April 22, 1970, Hana's father had already started farming in college because he was "interested in utopias – and he believed that started with farming." By 1962, Tony Newcomb and his wife Hiu began farming, and admittedly "lost money for 5 years", before quite getting the hang of it. Hana is the oldest of the Newcombs' five children. Potomac Vegetable began as wholesale farmers, and with no other clear retail path, they brought their produce to the supermarket, which "seems so odd now", says Hana. But by 1980, they entered local farmers markets, beginning with the Arlington market, which changed the way they thought about farming. 
Potomac Vegetable Farms labels itself as "ecoganic." In the early 1990s, they became certified organic for 13 years, until the certification became a federal program and regulations no longer matched their current scale. The farm broke off from their certification and created a new designation, adopting the ecoganic term. "It will make people ask us questions", they thought, "and it does. It means something to us, because we have an understanding of what those [organic] practices entail."
The effects of climate change are far-reaching, and small farms are no exception. Hana says, "Personally, I have noticed it over the past ten years. Increasingly in the strength of storms, the lack of winter. It's really changing the way we plant things. When I was growing up, you would never think to grow things outside in winter! It's the tumultuousness, the extremeness, the hotness of the summer." During summer now, on their Northern Virginia farm, the "blossoms of the tomatoes fall right off the plant." Farmers are experiencing gaps in production that are hard to recover from, especially in plants like eggplants and tomatoes. 
This presents new challenges, as farmers like Hana and the Newcombs wonder how to lengthen the season, or to make summer fruit less important – less of the showstoppers they typically are, and leaning more heavily on more reliable, consistent seasons. "Spring and fall are great around here now. Summer feels like we should be taking a break."
We asked what sustainable techniques might be inspiring the farm, giving them hope for farmers' ability to help combat these changes we're seeing. High tunnels, a relatively new practice for the farm, steps up to the task of season lengthening. "It's not as easy",  Hana tells us, "negotiating the space with equipment and handwork" but  "the heirlooms love it." And if you've ever stepped into a high tunnel during a winter farm visit, you'd believe her.
"Cover crops are the most important tool we have…to keep soil alive and as healthy as we can all the time." Planting cover crops allows farms to never leave soil bare to elements, so it is neither washed or blown away. "Keeps lively activity out there", Hana adds.
Additionally, many farmers, Hana points out, are experimenting with no-till, though Potomac Vegetable has not gone that route, as their scale doesn't accommodate that method. In efforts to keep erosion at bay, the farm has been planting grassy margins between planting fields. "Erosion happens a lot now…and depletes soil, in incredible amounts. You can lose a whole field to water."
How can we help? "People who grow local vegetables, and try to serve a community feel very deeply that one of the strongest ways people can support the region, is to shop as locally as they can and live with what they have." Hana told us. "This [current COVID-19] situation is teaching us what we can live without. This is the universe telling us we better sit up and pay attention. All these things that are very hard for humans to give up, we are doing instantaneously –  we are giving [them] up because we have to. I hope there are lessons in this."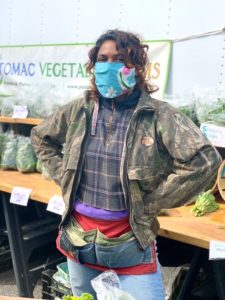 As FRESHFARM and many other farmers markets have shifted to pre-order and delivery options, Hana has been pleasantly surprised by her shoppers' support and their efforts to find and order from the farm. Potomac Vegetable was very quick to shift their market display, limiting staff, bagging their produce, and creating a barrier, wherein customers would ask for items, rather than browsing items themselves. Hana pointed out that thankfully, "we all have time to pivot". And shopping local? "Support that and keep going with it! Eating is the most politically active thing we can do!" 
You can find Potomac Vegetable Farm at Arlington on Saturday and Dupont Circle market every Sunday. You can additionally visit them at Takoma Park, Leesburg, and Falls Church markets, and at their roadside stand (slated to open at the end of May). Their CSA, however, is full.
Pictured above: PVF staff and their safe setup at marketing during COVID-19. Photo courtesy of Elise Museles.