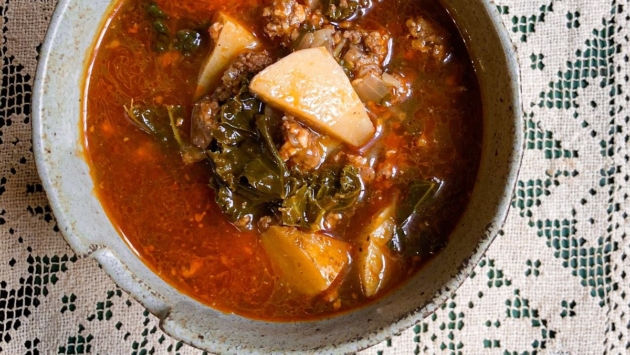 Ingredients:
1 pound of chorizo (or soy chorizo) – removed from casing
1 large yellow onion – diced
3 garlic cloves – diced
2 tablespoons tomato paste
3 medium potatoes – roughly chopped
3 cups of kale – washed and chopped
6 cups of stock
neutral oil
salt & pepper to taste
Directions:
Guest Recipe developed for FRESHFARM by Becca Jacobs of O Street Kitchen
Place a large stockpot on medium heat. Brown the chorizo, breaking it up with a spoon or spatula into crumbles. Remove the chorizo from the pot and set it aside.
Add enough oil to lightly coat the bottom of your pot and then toss in your onions, garlic, and tomato paste. Stir occasionally, until onions and garlic are almost caramelized — adding more oil if needed. Add the stock to the pot and scrape off any bits of fond from the pan.
Add in the potatoes, kale, and browned chorizo. Bring the pot to a boil and then down to a simmer (lid off) for 30 – 40 minutes until potatoes are tender. Add salt and red pepper flakes to taste.
Notes: Serve with a healthy dollop of sour cream or full-fat Greek yogurt on top. This can easily be vegetarian when made with soy chorizo and vegetable stock.