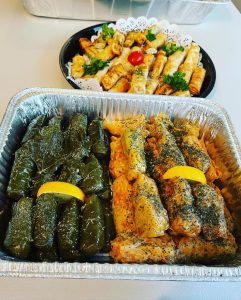 Ozz Catering is a woman-owned operation serving the DMV area and specializing in Turkish and Mediterranean cuisine.
They use organic ingredients, fresh vegetables and fruits, and free-range organic chicken, beef, lamb, and goat. Not only can you find them at farmers markets across the DMV area, but they also cater for private parties.
Ozz, owner and chef of Ozz Catering, is a mom of two daughters. When she prepares your food, she treats it as though she is cooking for her own family.
Menu items include:
Hummus
Babaganush
Turmeric Chicken Shish Kebab
Izmir Meatballs
Turkish Tabouleh
Cacik (tzaiki)
Imam Bayildi
Icli Kofte (kibbeh)
Turkish Boreks
Turkish Pides(flat breads)
Chickpea Salad
Patlican (eggplant with garlic yogurt — their signature Meze)
Baklava
Turkish Delight
Halva