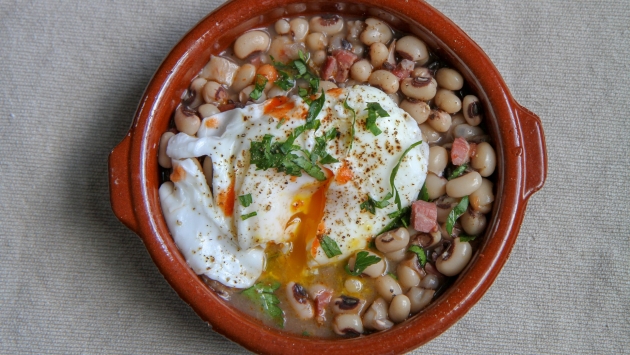 Ingredients:
2 tablespoons extra-virgin olive oil, plus more for drizzling
4 ounces slab bacon, cut into 1/2″ pieces (optional)
1 medium onion, finely chopped
A few sprigs of thyme, plus leaves for serving
4 garlic cloves, smashed
2 cups black-eyed peas, soaked overnight, drained. If using fresh peas, there is no need to soak them.
poached eggs (optional)
Kosher salt, freshly ground pepper
Directions:
Heat olive oil in a large saucepan over medium. Add bacon, if using, and cook, stirring occasionally, until some of the fat begins to collect in the pan and bacon starts to look shiny, about 5 minutes. Add onion and cook, stirring occasionally, until golden and tender, about 5 minutes. Add thyme sprigs, garlic, black-eyed peas, and 8 cups cold water and bring to a simmer over medium-high. Reduce heat to medium-low and simmer gently, skimming any foam from the surface, until beans are tender, 35–45 minutes, longer if your dried beans are on the older side. If using fresh beans the cooking time will be considerably shorter.
Discard thyme; season with salt.
To serve, drizzle beans with oil and top with thyme leaves, some black pepper. and a poached egg.